That is the most powerful RC Airplane with totaly 1200 newton Thrust. 1 newton are 0,102kg Thrust we have here 4x JetCat P300 Turbine each of this Turbine have 300 Newton Thrust totaly 122,4Kg Thrust power to 149Kg weight of the Model.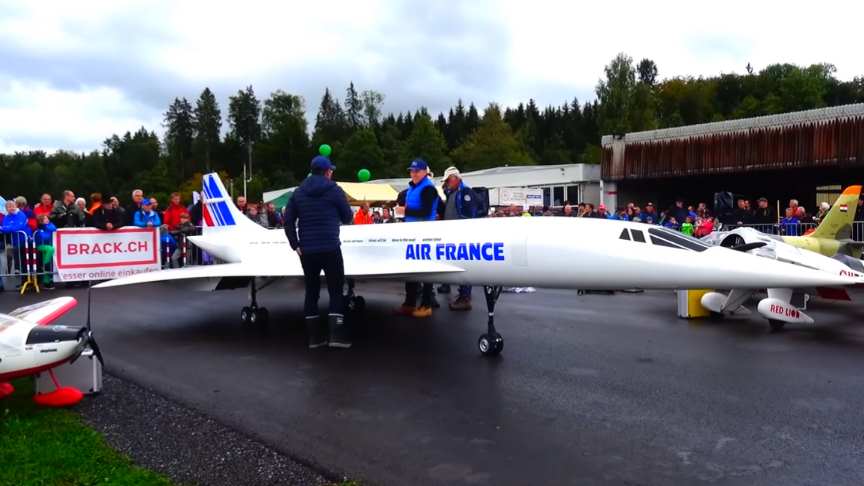 source/image(PrtSc): RCHeliJet
This Concorde have a Length from 33 Feet and the Cockpit can move down Like the Original to see the Runway during the Takeoff and Landing.
Exhaust gas temperature is around 480-750 Degree. Exhaust speed is 2160 KM/H this is 1342.162mph. Fuel consumption @max rpm ml / min for 1x turbine is 980ml per minute so all 4x need 3920ml per minute. Enjoy this Flight Pilot and Builder is Otto.W
Advertisement
The aircraft was initially referred to as "Concorde", with the French spelling, but the name was changed officially by Harold Macmillan to "Concord". Concorde pioneered a double-delta shaped wings, variable inlet ramps, supercruise capability, thrust-by-wire engines and a droop-nose section for improved landing visibility.
Model Data:
WingSpan: 4 meter
Lenght: 10 meter
Height: 1.85 meter
Weight: 149 Kg
Turbine: 4x JetCat P300 Pro
Fuel Tanks Capacity: 24 liters