The 2003 Lincoln Town Car looks like a regular Town Car — but it's a LOT more special than that. This Town Car has a Ford Mustang Terminator Cobra engine swap, and it's truly amazing — and I'm going to show you all the quirks and features. I'm also going to drive the "Terminator Town Car" and review what it's like behind the wheel.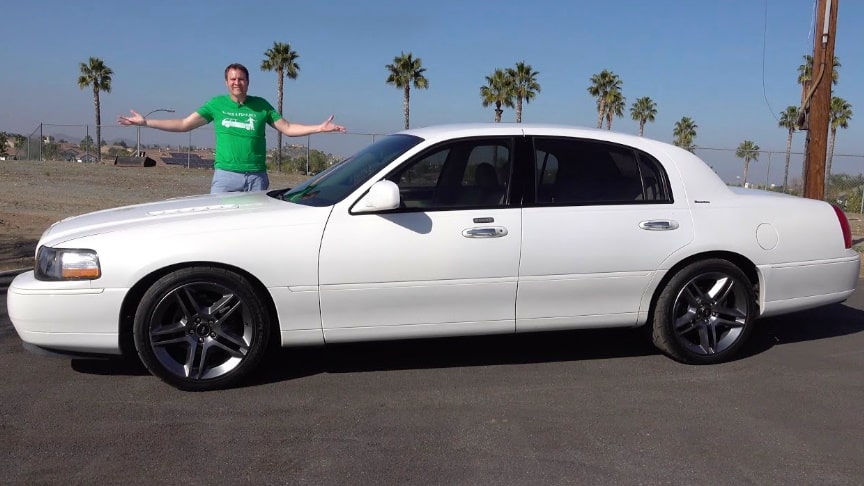 source/image: Doug DeMuro
The Lincoln Town Car is a model line of full-size luxury sedans that was marketed by the Lincoln division of the American automaker Ford Motor Company. Deriving its name from a limousine body style, Lincoln marketed the Town Car from 1981 to 2011, with the nameplate previously serving as the flagship trim of the Lincoln Continental.
In 2003, coinciding with the chassis redesign, the body of the Town Car underwent a number of changes. To bring it in line with contemporary Lincoln vehicles, the lower body was squared off; the oval grille was redesigned in the style of the Lincoln LS; the hood ornament made its return after a 5-year absence.Modifications to this Town Car are extensive:highlights include a Terminator V8 swap with a Teksid aluminum cylinder block and a Posi Ported Eaton supercharger, a rebuilt transmission with a Gearvendors overdrive, 19-inch Shelby GT500 wheel.
Advertisement
For its 2003 redesign, the interior of the Lincoln Town Car saw extensive changes. To differentiate the Town Car from the Mercury Grand Marquis, the radio and climate controls were integrated into a single unit with an analog clock; the interior was given a model-specific wood trim bordered by satin metal. The redesign included new seats, distinguished by taller head restraints.