Fireflash is a hypersonic airliner from Thunderbirds, capable of travelling at six times the speed of sound. It can carry a maximum of 600 persons (passengers and crew).Its luxurious interior contains a comfortable lounge in each of its two main wings; its cargo area includes a vehicle garage.Thunderbirds is a British science fiction television series created by Gerry and Sylvia Anderson, filmed by their production company AP Films (APF) and distributed by ITC Entertainment.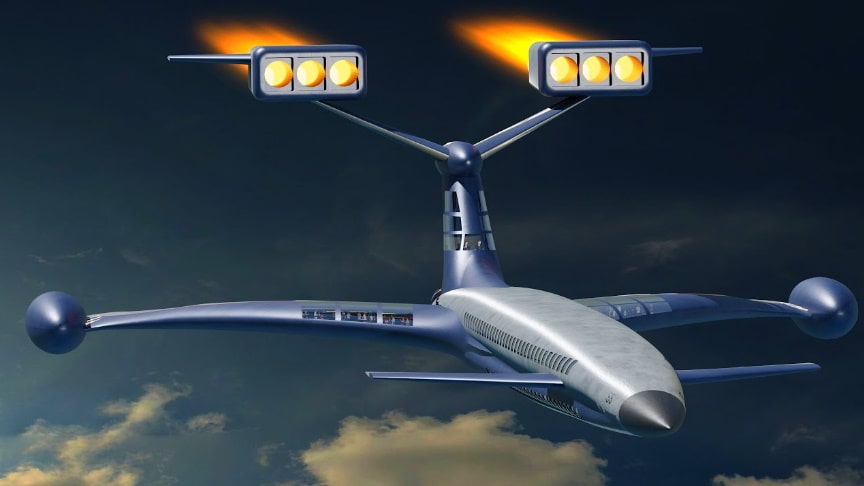 image: Hazegrayart
It is equipped with two passenger decks and many luxury features including cocktail lounges located within glazed sections of the wings' leading edges. Unusually, the flight deck is built into the aircraft's tail fin.Watch the video animation from Hazegrayart:
The cockpit is located, unconventionally, in the tail fin, giving the pilots an unobstructed view of the entire aircraft.The top of the tail fin splits into two branches – each one housing three "Atomus" engines, that give Fireflash a cruising speed of 3865 mph (Mach 6 at an altitude of 250,000 feet).
Advertisement
There are two sets of horizontal stabilizing fins: one pair near the front of the fuselage, the other attached to the engines.We're not provided with any info on what kind of reactor this thing might use or its performances, but just seeing its strange, pointy shape as it cruises down some runway, and then shooting through the air, gives us a glimpse at the future the people from the 1950s imagined, but never came to pass.