The youtube channel Make it Extreme is well known for building unusual projects, this time they build a scooter powered monotrack bike.Starting this project, numbered 0100, we knew that it had to be something special in order to thank our viewers for their loyalty. Having this thought in our head, we, therefore, decided to make a motorized vehicle.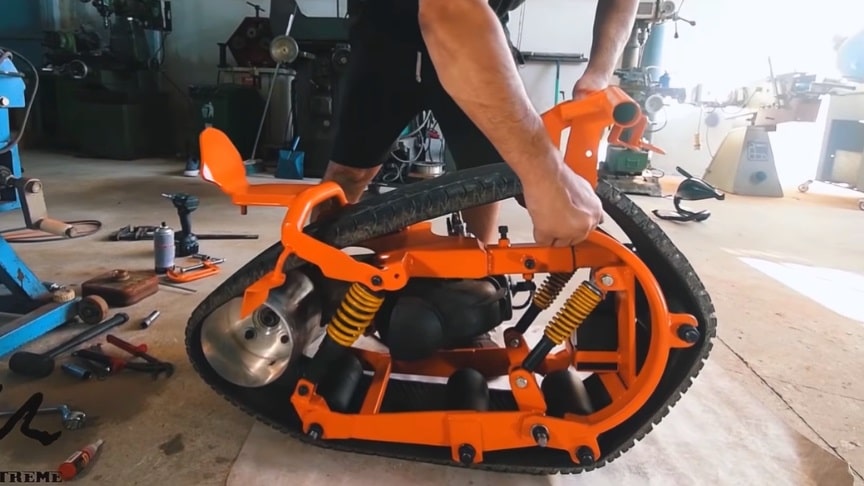 source/image(PrtSc): Make it Extreme
We called it 'monotrack bike' as it has only one crawler that it uses it to move. To make this crawler, we took a car tyre, from which we removed its two sides to make it softer and easier to take the shape that we want. Then, using an aluminium, diving bottle, we made the rims, which transmits the motion of the machine to the crawler.
Firstly, we used a machine by a 100cc 2 stroke scooter. The crawler takes its shape and spins in 5 additional metallic rollers that we created and are made of a metallic tube 80mm wide. Three of the five rollers are located at the frontal part of the bike and are connected to the machine with a variable connection so that the crawler will be able to be set along it. In this way, we can control its stretching.
Advertisement
The other two rollers are located at the back side of the crawler and through a scissor are connected with the frontal part of the bike, where the three metallic rollers are. The scissor is supported by three springs which help the absorption of the noise of vibration.