The Thor 24 Truck is powered by twin V12 two-stroke Detroit Diesel engines. The 24-cylinder powerplant is topped with 12 (yes, twelve), BDS 8-71 superchargers. The combined displacement of the motors is an incredible 27,9 litres.So special that the part went under the hammer at an auction in Saudi Arabia at the end of November 2019.The truck sold for a record $13.2 million.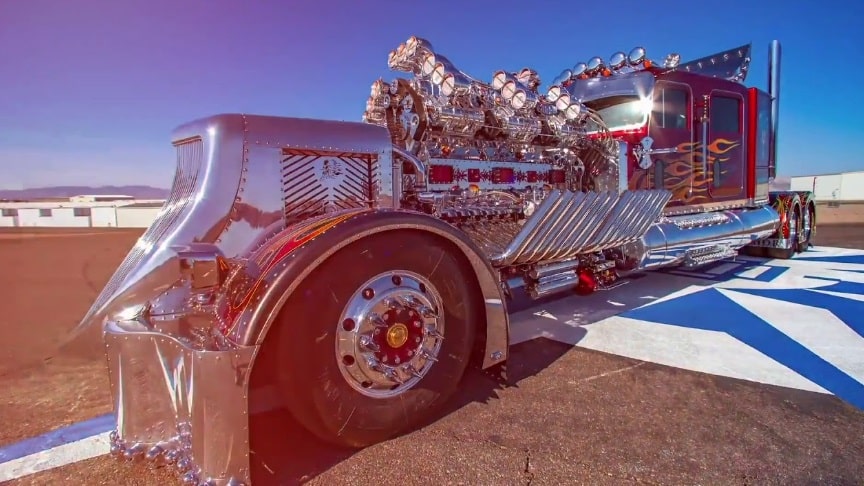 source/image: Worldwide Auctioneers
As if the massive swept volume and superchargers weren't enough, the top of the manifold is also the base for eight nitrous-oxide bottles. An engine of this size does not rev very high, as you may expect. The builder of this custom truck is Mike Harrah.
The 13-ton truck has a chromed Allison HT740 transmission. Peterbilt air leaf suspension supports a custom chassis and steering system. The rig rides on Alcoa aluminium wheels wrapped in 315/30R/22,5 tyres.The truck also features a customized independent suspension, a manual gearbox, and power disc brakes.
Advertisement
The stretched Peterbilt chassis measures a whopping 44 feet long and weighs 32,000 pounds, but Worldwide claims a top speed of 130 mph when the nitrous boost system is activated. In addition to the engine's 12 superchargers, there are also four 12-foot drag parachutes to help slow down THOR after Vmax runs.