The McLaren Artura is the latest McLaren model. Today I'm taking you on a thorough tour of the Artura to show you the quirks and features of the new "entry-level" McLaren supercar — and I'll show you the ins and outs of the Artura, and go for a drive. Is this hybrid V6 enough to be called a supercar? Tell me what you think of the McLaren Artura in the comments.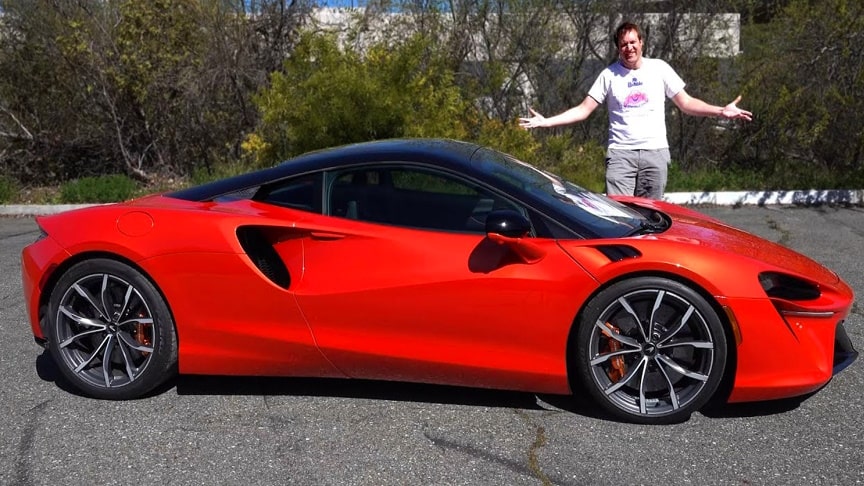 source/image: Doug DeMuro
The name of the second hybrid McLaren and the first McLaren with a V6 engine was announced on 23 November 2020. It is a combination of the words art and future. It inaugurates a new carbon fiber chassis called MCLA (McLaren Carbon Lightweight Architecture).
The Artura uses an all-new 2,993 cm3 twin-turbocharged V6 engine paired with an electric motor to produce a combined output of 500 kW at 7,500 rpm and 720 N⋅m of torque at 2,250 rpm. On its own, the engine produces 430 kW and 584 N⋅m of torque. The all-aluminum engine has a bank angle of 120 degrees, a world first for a production V6 engine.
Advertisement
The electric motor used in the Artura produces 70 kW and 225 N⋅m of torque. The combined torque peak is less than the sum of both sides as the output is limited to "optimize powertrain drivability characteristics". The 7.4 kilowatt-hours lithium-ion battery pack weighs 88 kg and is positioned under the rear of the passenger compartment/….wikipedia