A V2 engine, also called a V-twin engine, is a two-cylinder engine layout in which the cylinders form a "V". People also call it a panhead engine because it's an overhead-valve Harley-Davidson motorcycle engine, so nicknamed because the rocker covers resembled cooking pans.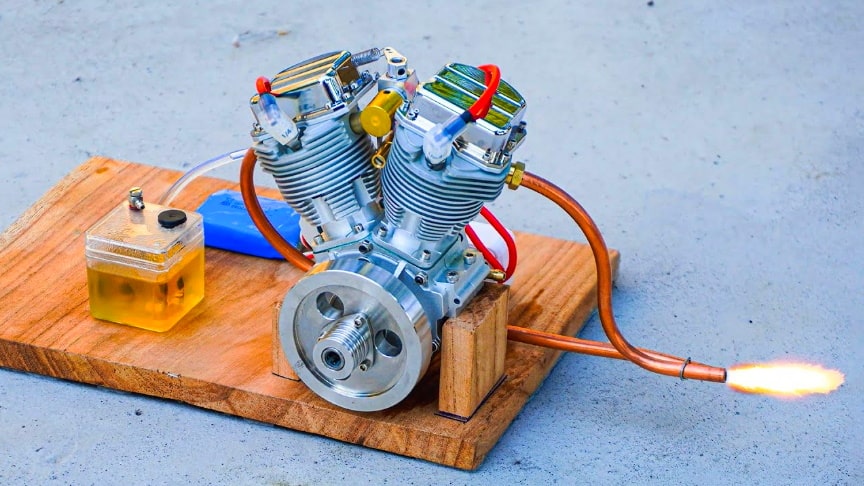 The engines are arranged in a V configuration with angles greater than 0 but less than 180 degrees.Here we have an amazing CISON FG-VT9 9cc V-twin V2 Engine Four-stroke Air-cooled Motorcycle RC Gasoline Engineine. Video by NDA Hack:
The highly simulated classic look and elegant silver appearance recreates how a real motorcycle engine looks. Upgrade based on the original design to improve performance and reliability represents the most significant feature of motorcycles.
Advertisement
The body is manufactured with aluminum CNC precision processing, and the two copper exhaust elbows are more distinctive. The crankshaft runs smoothly with large-area heat sink featuring ideal air-cooling effect, ensuring prolonged yet stable performance. The sensitive single carburetor throttle response and the normal speed range of 2000-8000rpm are our highlights./stirlingkit
Some Specifications:
Stroke: Four-stroke
Displacement: 9(4.5*2)cc
Bore: 16.67mm
Stroke: 21mm; Angle: 45°
Speed: 2000-8000rpm
Power: 0.8ps
Starting power: 2S-3S lithium battery.