The mini engine in this video is a model CISON FG-VT9 9cc V-twin V2 Four-stroke Air-cooled Engine.Designed with OHV bottom camshaft top rod air distribution structure, two cylinder cylinders are at a 45° angle, each cylinder has two valves,.The rocker arm and the connecting rod cooperate more smoothly, and the independent intake and exhaust design to ensure more accurate switch.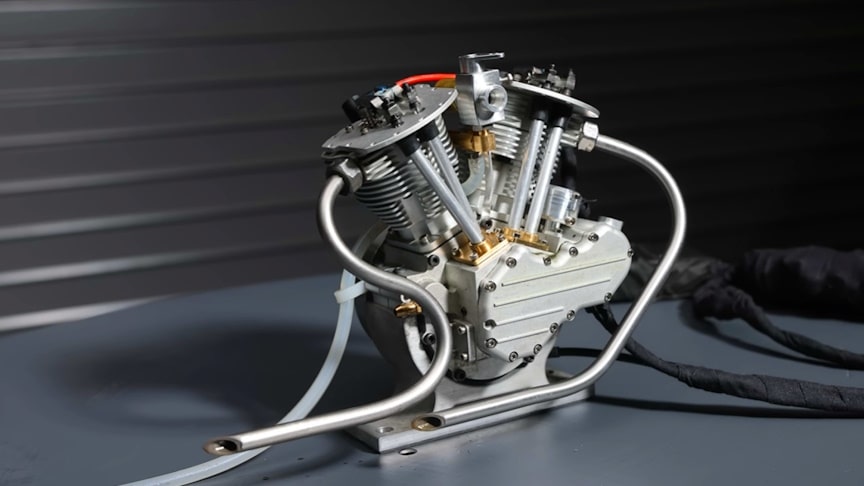 source.image: Warped Perception
I set up and test run this miniature Harley-Davidson panhead engine, I handmade a custom set of tuned exhaust headers, I design them a certain way to see if I could get that very well known Harley-Davidson engine sound.. and to my surprise it came out absolutely amazing.
This thing sounds so similar to a real engine just scaled down.This is a nearly exact scale replica of a Harley Davidson panhead engine it is very very impressive.
Advertisement
The body is manufactured with aluminum CNC precision processing, and the two copper exhaust elbows are more distinctive. The surface of the cylinder block is anodized and the rocker cover is chrome-plated. The engine will remain bright and clean for a long time, which makes a visually pleasing artwork.The crankshaft runs smoothly with large-area heat sink featuring ideal air-cooling effect, ensuring prolonged yet stable performance. The sensitive single carburetor throttle response and the normal speed range of 2000-8000rpm are our highlights../stirlingkit