This small silver engine, called FL4-175, is a 17.5cc water-cooled flathead side-valved engine that burns gasoline on CDI ignition. A small amount of oil is added to the crankcase for internal lubrication and caster oil is added to the fuel for upper end lubrication. Aluminum CNC precision machining is used to make the main body of the engine.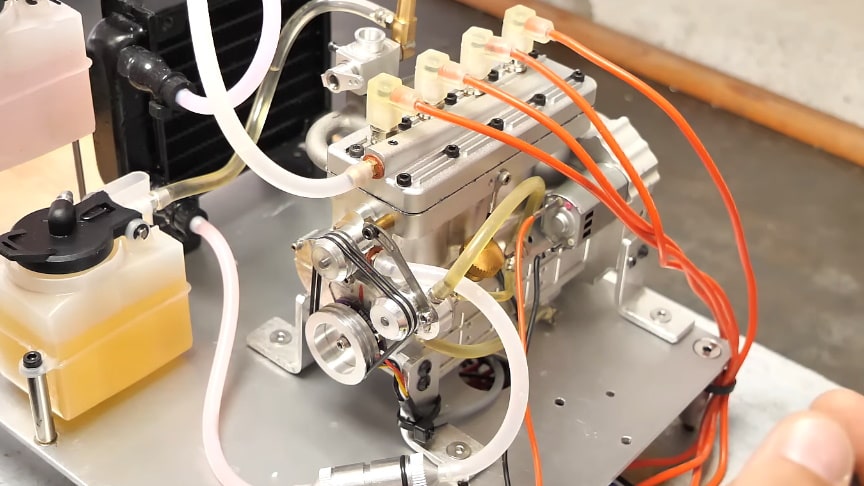 source/image(PrtSc): JohnnyQ90
It features bi-metal piston rings made out of cast iron, high-performance hardened cylinder liner, one-piece crankshaft. Sandblasting oxidation on the engine surface makes a good metal texture and sense of mechanical engineering.
As we all know, a flathead engine is also called as a sidevalve engine or valve-in-block engine that is an internal combustion engine with its poppet valves contained within the engine block, instead of in the cylinder head, as in an overhead valve engine.
Advertisement
This is a CISON FL4-175 Flathead Inline 4 Cylinder Four Stroke 9,000rpm RC Water-cooled Gasoline Engine 17.5cc.The engine makes a perfect addition for machine enthusiasts, engine model aficionados and collectors, an excellent choice for RC oil models and a high-end personalized gift for family and friends.
Displacement: 17.5cc
Bore: 16.7mm
Stroke: 20.0mm
Fuel: gasoline
Independent lubrication
Watercooled
CDI electronic ignition
Electric motor starting system
Dimensions: 13.5 x 4.3 x 9cm
Weight: 1500g