First working miniature V12 model engine in the world, 50CC displacement, four stroke, full supported crankshaft, auto-advancing ignition system, water cooled and splash oiling.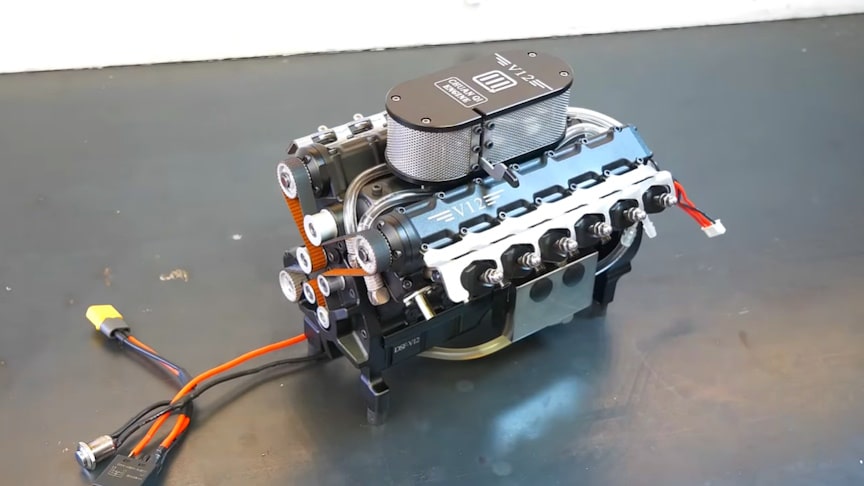 source.image: JohnnyQ90
This is the first working miniature V12 engine in the world created by Chuan Qi Precision. It is a four stroke model engine in single overhead camshaft structure, comes with full supported crankshaft and camshafts, and an electronic auto-advancing ignition system, no misfiring.
This is a real gasoline engine, having powerful output, and could be used on rc applications like cars, trucks, boats and tanks.Gears, crankshaft, camshafts, cylinder sleeve are made of steel.Engine block, pistons, piston rods are made of aluminum alloy.Valve spring is made of spring steel.
Advertisement
Dimension: 216 (L) x 161 (W) x 159 (H) mm.Weight: 4.5kg. Type: Single Over Head Cam, 24 Valves, four stroke.Fuel: Gasoline.Stroke:18mm. Bore:16.68mm.CompressionRatio: 9.5.Displacement: 49.89CC.Rev Speed: 2000~12000rpm.Spark Plugs: Iridium Spark.Plugs.Cooling: Water Cooling & Dry Sleeve, Gear Water Pump.Lubrication: Splash Oiling with oil passage.