The Mobilvetta Admiral van now paves the way for exclusivity in a van.Perfect for any kind of holiday, compact, handy, plenty of space.A way of travelling that will ensure you unique moments. Three trendy solutions, three ways of experiencing the van.Elevating bed with electric movement on belts.With the bed lowered you have a 75-cm high garage, while with the bed fully elevated you get a 130-cm high compartment.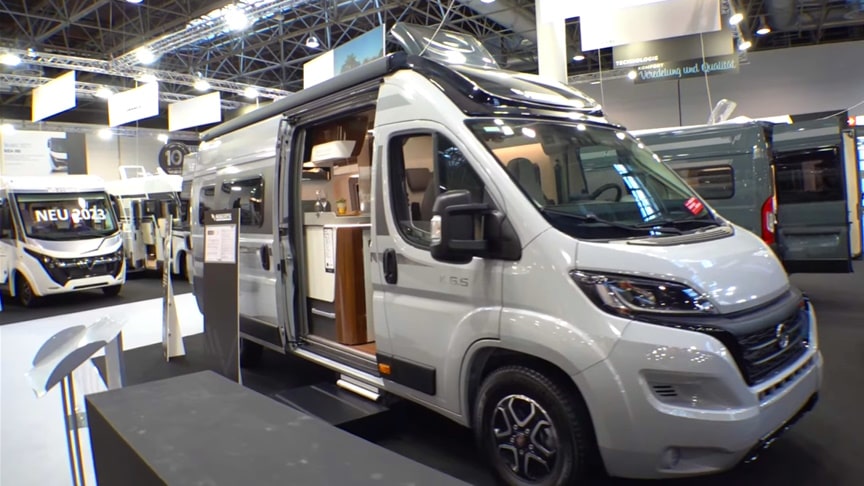 It is still possible to adjust the bed to any desired height, to sleep while retaining space for the equipment underneath, to transport any kind of luggage or equipment without removing the bed each time. The sheet metal cover with a non-slip surface protects the floor and the supplied ramp facilitates loading.
The campervan stands on Fiat Ducato 35 Light 2.2 mjt 140 HP engine.Everything is about feeling good in the van.Rounded interiors and rounded table edges with a precious chrome leg.Table with folding top and extension for maximum comfort when travelling or standing. Removable, engages on the outside, too.
Advertisement
Automotive-style contoured seats with adjustable head rests.USB sockets for device charging within easy reach.Gloss laminate doors in continuity with the wall units merge the cab and the open space and give uniformity to a room surrounded by highquality insulating soft-touch walls.Admiral is synonymous with sophisticated elegance, beauty and distinctive details. The art in the Admiral kitchen is expressed through excellent design systems with the aim of making work flows simpler and putting people and their needs at the center.