Tour this stunning and modern 1000-square-foot cabin where every detail has been meticulously designed and executed to provide a comfortable space that merges with nature. Built all on one level, the cabin has a carport and firewood storage at one end, and then the cabin itself has an open-concept living, dining, and kitchen area, as well as two beautiful bedrooms and a spacious bathroom. The most impressive part of this cabin is that 60% of the house is windows, which takes the concept of indoor/outdoor living to a whole new level.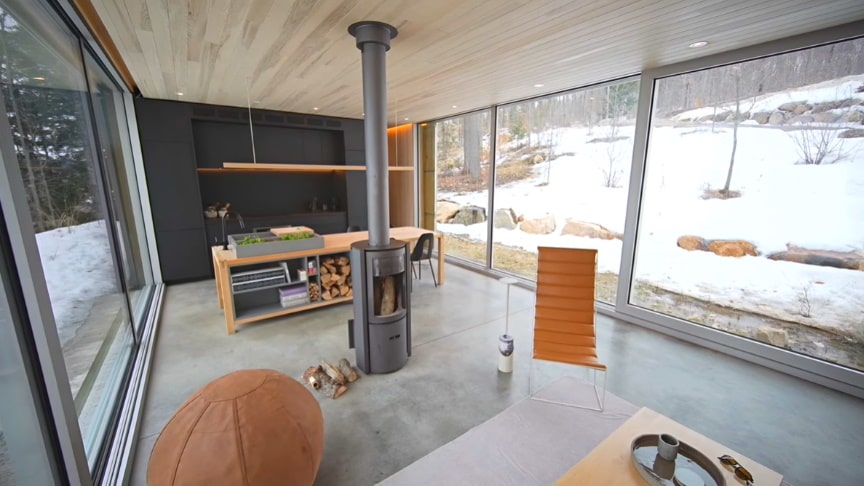 source/image: Exploring Alternatives
This cabin is called hinterhouse and it's part of the hinter project started by Mauricio and Emily in Quebec, Canada. Some of the special features of the cabin include:The wood stove that is the heart of the cabin and can be rotated to face multiple directions. It also distributes heat evenly throughout the space and is the perfect cozy complement to the in-floor heating.
The massive amount of storage throughout the cabin that has been cleverly built-in and hidden behind minimalist doors. The subtle LED lighting that provides soft, warm lighting without cluttering up the space.The custom and unique furniture and cabinetry that was designed and built by local carpenters, and local furniture makers.
Advertisement
The exterior shutters that allow you to play with light and make the cabin feel and look different depending on the configuration.Congratulations to Emily and Mauricio on a beautifully executed cabin project!