The Moto Guzzi V7 Sport is a sports motorcycle first manufactured in 1971 by Italian company Moto Guzzi. Based on the V7 roadster, but with a new frame and clip-on handlebars, the V7 Sport was the first Moto Guzzi café racer. The V7 Sport was lighter than the standard V7, it handled well and proved popular.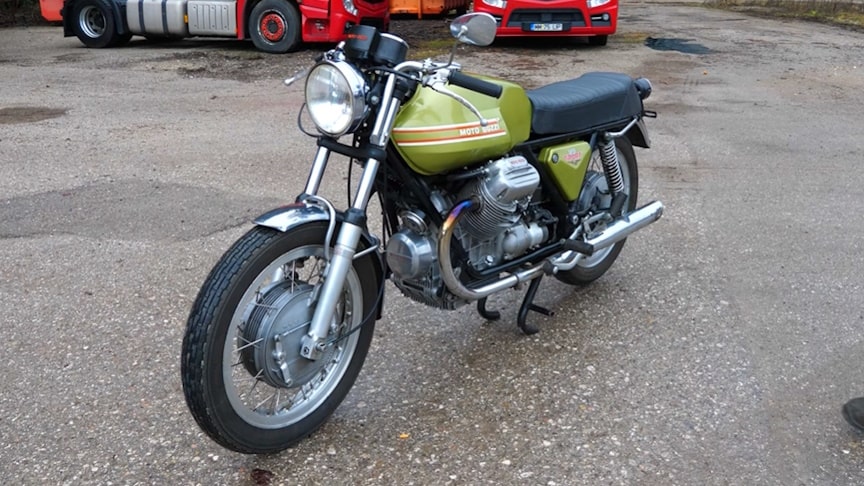 source.image: classic-motorcycle.com
In 1957 Moto Guzzi withdrew from the world of racing and turned their attention to creating a new kind of motorcycle that could compete with the big V-twins coming out of America. The new engine design consisted of a V-twin mounted longitudinally in the frame with the cylinder heads sticking out in the clean air-flow.
With a capacity of 748cc the air-cooled V-twin is fed by twin 30mm Dell'Orto carburettors (each with cold-start levers), and it has a factory specified compression ratio of 9.8:1.With a dry weight of 206kg the Moto Guzzi V7 Sport proved to be a spritely performer and it was highly regarded by reviewers.
Advertisement
The V7 Sport received a new camshaft with both more valve lift and increased duration and with a claimed 70 horsepower at 7,000rpm it was one of the most powerful motorcycles available in 1971.The Moto Guzzi V7 Sport is one of those super cool motorcycles that made an impact within its own era but then went on to have a sustained legacy right up to the present day.