Mark "makr" Atkinson spent his youth learning to fix engines (of his father's classic car) and rebuilt motorcycles. Later, he taught himself welding and fabrication and set a landspeed record at the Bonneville Salt Flats on a bike he'd built. Today, he fabricates most nearly everything in his life, even his bed and furniture that sit in the loft above his workshop (in an airplane hangar in Salt Lake City's Skypark).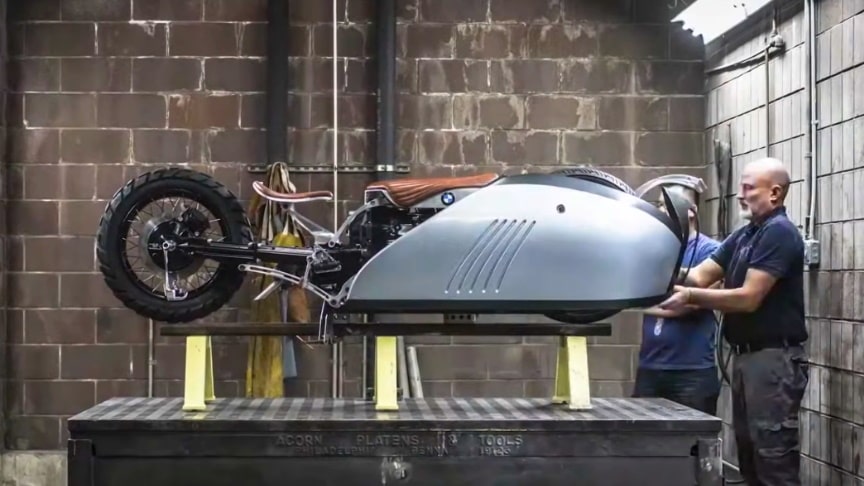 source/image(PrtSc): Kirsten Dirksen
One winter when the Bonneville races had been canceled, Atkinson found the work of Turkish industrial designer Mehmet Doruk Erdem and built the BMW Alpha: a one-of-a-kind shark-nosed land speed racer. A couple years later an engineer approached him asking for advice: "We make this really great electric motorcycle, but we're not selling them, where are we going wrong and I said, 'You're putting a gas tank on an electric bike. I think you've missed your opportunity to do something really great.
You've got a clean slate, essentially 1880s when we started building motorcycles in the first place. You can do anything you want and you've chosen to do what we've already done.""It got me thinking, if I didn't have any preconceived ideas of what a motorcycle was supposed to look like. I came from the moon or mars and someone said build a vehicle with two wheels and an electric motor, what would you build and it was the Racer X bike." For the Racer X, Atkinson created a bike shaped like an "X" using hubless wheels and duo-pivot servo-controlled steering.
Advertisement
Atkinson has completely merged life and work and he loves it, but fears that we, as a society, undervalue machinist work and will pay a price. "My art and craft is dead when I'm gone. There is nobody to take over. The machine shops I've worked in there are no young kids there and you think, this stuff stops, when I'm done, it all comes to a stop. We've convinced every young kid out there to go to college, to sit in a frickin' cubicle and process insurance paperwork and whatever mindless crap./Kirsten Dirksen