This body harness system is for lifting and moving items of all sizes. It's especially great for carrying office partitions, desks, lockers, safes, woodworking machines, hot tubs, mattresses, furniture, appliances, HVAC units, cast iron bath tubs, etc.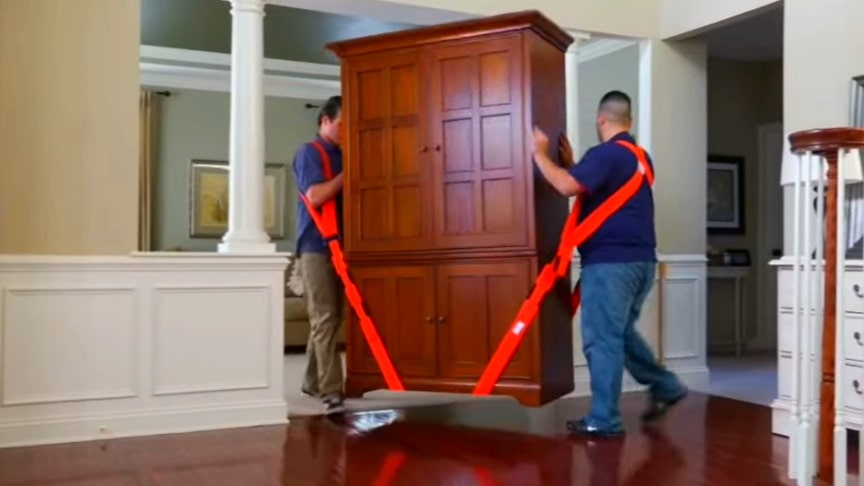 source/image(PrtSc): A.A.C. Forearm Forklift, Inc.
MovXing Cradle Harness encourages proper lifting techniques and employs leverage which makes the items being carried seem MUCH lighter. Saves floors from scratches, dents, scuffs and scrapes that dollies and hand trucks can leave behind. Reduces back injuries due to heavy and repetitive lifting.
Firstly you both put on your harnesses. Lay down both straps alongside the item that you are going to lift. Then tip and kick the straps underneath the piece of furniture. The next step is to cross the straps.
Advertisement
Finally set a loop on your harnesses' buckles. Place you hands on the side of your piece of furniture and with your back straight & head up high you can lift the heavy furniture.//forearmforklift
Specifications:
shipping weight: 4 lbs. ( 1.81 kg )
strap's width: 3 in. ( 7.62 cm )
straps can be adjusted up to 48 in. ( 122 cm ) so that you
can easily carry small, med., lg. & XL items
MovXing Cradle – Patent No. 7,731,069