The Ner-A-Car was a type of feet forwards motorcycle designed by Carl Neracher in 1918. It used an unusual steel-channel chassis, much like an automobile, and hub-center steering at the front wheel, making it 'nearly a car' in design.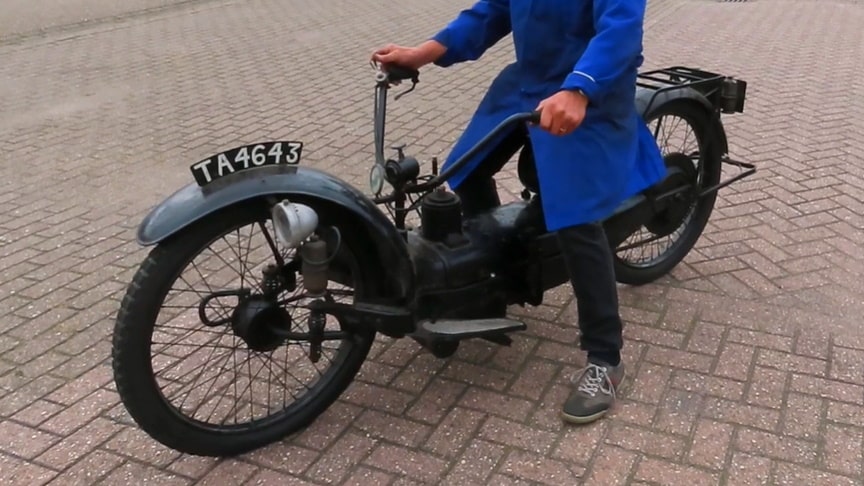 source/image(PrtSc): yesterdaysnl
The Ner-A-Car was the most successful hub-center steering motorcycle ever produced, with sales far eclipsing earlier or later examples of this design, such as the Yamaha GTS1000 or Bimota Tesi. In 1923 the model B with larger front mudguard and 285 cc engine was brought out in England. A year later the model C came out, powered by a 350 cc Blackburne engine and fitted with a conventional clutch and gearbox.
In 1924 the American Neracar saw its engine capacity increase to 255 cc.Carl Neracher's design had several unusual features, including a low-slung perimeter frame chassis, hub-center steering, all-enclosing bodywork, the feet-forward riding position, and a friction drive transmission, driven by the flywheel of the engine.
Advertisement
The friction drive transmission was similar in concept to a continuously variable transmission, and had five fixed indents on the shift lever, that corresponding to pre-set drive ratios.The driven friction wheel was moved between the center and outer rim of the flywheel to effect a change in drive ratio; nearer the center was a 'lower' speed, farther towards the rim of the flywheel was the 'higher' speed. The design was simple and ingenious, with a feeling nearly like an automatic transmission./wikipedia