The Niki Kallithea is an autogyro aircraft that is designed and produced by Bulgarian Niki Rotor Aviation.Gyroplanes are sort of a reborn phenomena in general aviation but they are here to stay. The Kallithea offers a much more spacious closed cabin and modern amenities for the new age pilot.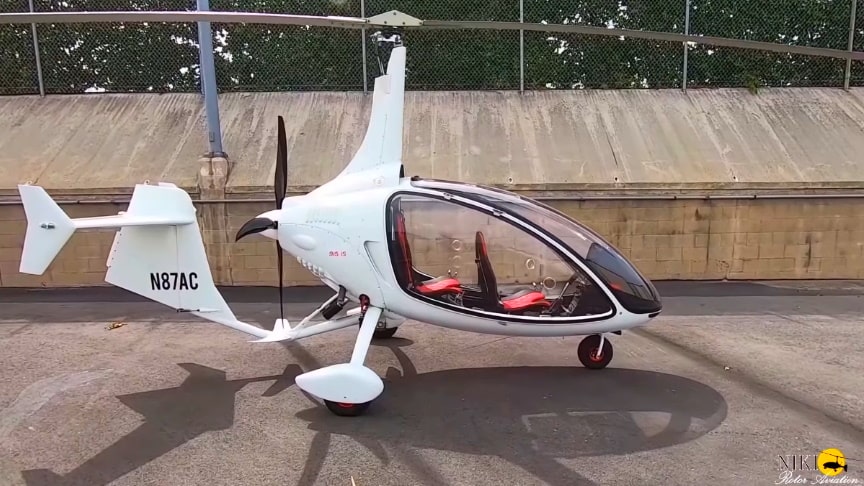 source/image(PrtSc): MojoGrip
The Kallithea is a development of the 2009 Niki Lightning, differing mainly in its use of a conventional two-tube tail boom that passes under the pusher propeller instead of mounting the tail boom through the propeller hub.
The Kallithea features a single main rotor, a two-seats-in tandem enclosed cockpit with fold-up doors, tricycle landing gear and a four-cylinder, liquid and air-cooled, four stroke 100 hp (75 kW) Rotax 912 or six-cylinder, liquid cooled side-valve four-stroke flat six 4-litre gasoline 120 hp D-Motor LF39 aircraft engine in pusher configuration. The doors can also be removed for flight.
Advertisement
The aircraft fuselage is a monocoque structure made from composites and fibreglass. Its two-bladed Vortech or Sport Copter rotor has a diameter of 8.5 m and a chord of 21 cm. The aircraft has a typical empty weight of 250 kg (551 lb) and a gross weight of 450 kg, giving a useful load of 200 kg . With full fuel of 80 litres the payload for the pilot, passenger and baggage is 143 kg.
Here are the performance stats for the Niki Kallithea
Engine: Rotax 141 hp
Useful load: 520 lbs
Speed: 92 mph
Fuel burn: 5 gph
Range: 310 miles
Price: N/A