This is the Nissan Stagea, a Skyline GT-R Wagon. Today I'm reviewing this Nissan Stagea and I'll show you all the many quirks and features. I'm also going to get behind the wheel of the Nissan Stagea and show you what it's like to drive.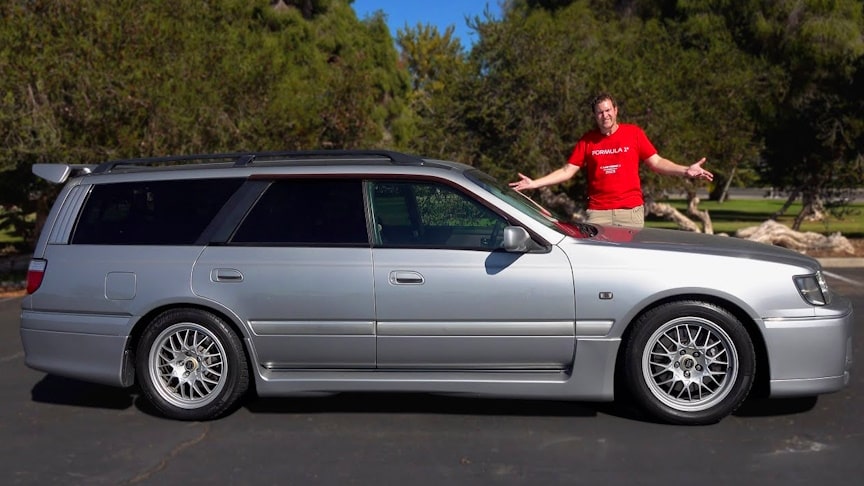 source.image: Doug DeMuro
The Stagea 260RS Autech Version, or just 260RS, is a tuned version of the Stagea made by Japanese tuning company Autech. The 260RS uses the 2.6L RB26DETT coupled to a 5-speed manual transmission and features ATTESA E-TS all-wheel drive from the R33 GTR and a limited-slip rear differential.
Other modifications include Brembo brakes, 17″ BBS forged alloy wheels, body strengthening, an undercarriage protector, upgraded suspension, a front strut brace, a special rear stabilizer, Autech badging and an Autech bodykit that includes unique sideskirts, front bumper and tailgate spoiler.
Advertisement
Interior modifications include an R33 GTR steering wheel, GTR style gauges, a leather shift knob and parking brake handle and special seat trim. Like other Japanese sports cars of the time, the 260RS officially produced 280 PS (206 kW; 276 hp) but most sources believe the actual horsepower to be higher.1,734 260RS (series 1.5 and series 2) models were produced from November 1997 to March 2001.