The Beechcraft Model 17 Staggerwing is an American biplane with an atypical negative wing stagger. It first flew in 1932.The Beechcraft Staggerwing unusual wing configuration—the upper wing inversely staggered behind the lower—and unique shape resulted in a design that maximized the pilot's visibility while minimizing the aircraft's tendency to stall.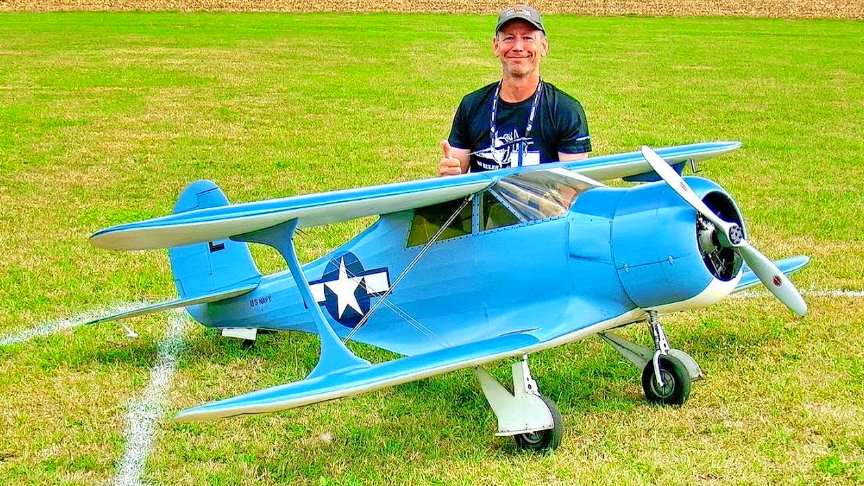 source/image(PrtSc): RC MEDIA WORLD
This model faithfully captures the character of the original Beechcraft Staggerwing airplane with scale features that include a highly-detailed radial engine, a fully-symmetrical airfoil wing design with rib details, flying wires, an authentic scale trim scheme, flaps, and retractable landing gear.video by: RC MEDIA WORLD
The servos for the control surfaces including the flaps and retracts are already installed, making your assembly about as simple as it gets for an aircraft with this level of detail.
Advertisement
This Giant Rc airplane has a length of a 2.50m and a wingspan of 2.50m and is powered by the Moki 215cc 5 cylinder radial gas engine with electronic ignition.RC MEDIA WORLD
Model: Beechkract Staggerwing
Engine: Moki 215
Wingspan: app. 2.50m
Length: app. 2.50m
Take-off weight: app. 20Kg
Pilot: Eric Kennis
Event: Euroflugtag Rheidt Germany August 2019