This thing looks absolutely amazing and it sounds good too! What you see here is the one-off 1965 Pontiac Vivant 77 Roadster; a prototype built by Herb Adams.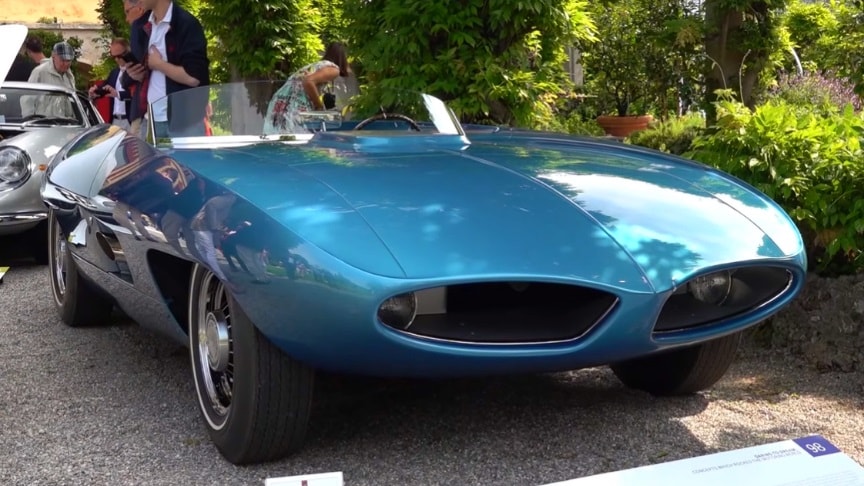 source/image(PrtSc): NM2255 Car HD Videos
In this video you'll see the car starting up its 6.0 liter V8 engine and driving around Villa d'Este so you get to see the car for a bit, as well as hear the engine sound! The engine displaces 370 cubic inches, and it makes a great sound from its front fender-exit exhaust pipes.
This blue-hued marvel was the brainchild of muscle car engineer Herb Adams, who conceived the concept at GM's headquarters but employed the so-called Beatles of Troy, Michigan—three British, ex Rolls-Royce coachbuilders—to fashion its clean, sharp lines.
Advertisement
Combining flared nostrils with a manta-like tail inspired by the Alfa Romeo's trio of Bertone-styled B.A.T. concepts, the Vivant 77 wowed crowds at the 1966 Detroit Autorama with its otherworldly styling. Grounding the slick design was pure hot-rod hardware: a NASCAR-derived 370 cubic-inch V-8 pumping out 405 horsepower. After the detroit auto-rama show 1966, the vivant 77 was forgotten about before resurfacing again in 2009 and being authentically restored to its original condition.