The Opener BlackFly is an American electric-powered VTOL personal air vehicle designed by Canadian Marcus Leng and in production by his company, Opener, Inc. of Palo Alto, California.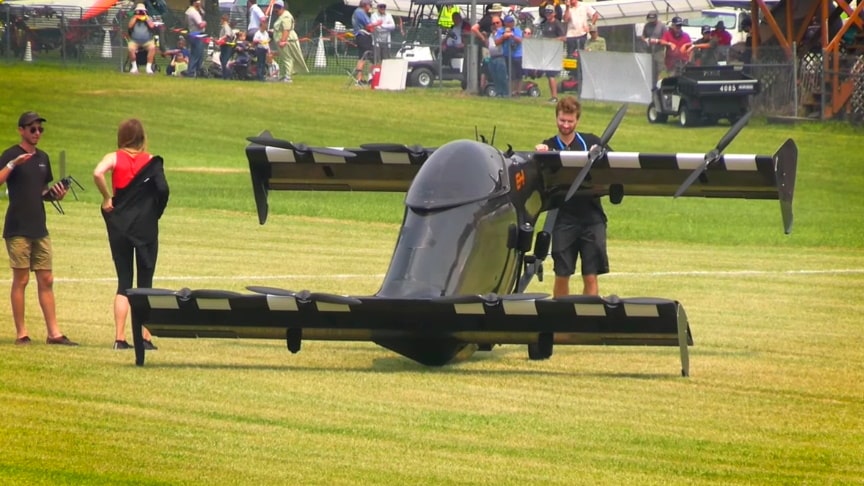 source/image(PrtSc): Experimental Aircraft Channel
The manufacturer claims that the design is the world's first ultralight fixed-wing, all-electric, vertical take-off and landing aircraft. Oshkosh 2021 Opener Flies BlackFly Wo-Manned Flight Electric Amphibious Aircraft during demonstration at EAA Airventure!
The aircraft is made from carbon-fiber reinforced epoxy with all-electric battery-powered propulsion. It has two 13.6 ft (4.15 m) cantilevered tandem wings, on the front and rear of a short fuselage. The fuselage has a single-seat cockpit under a bubble canopy. The forward wing is low, and the rear wing high, giving the cockpit good forward visibility.
Advertisement
The aircraft weighs 313 lb (142 kg) empty and can carry a pilot and baggage totaling 250 lb (113 kg). It can accommodate a pilot of up to 6.5 ft (1.98 m) in height. A ballistic parachute is optional. The airplane is powered by eight electric motors, it can reach a maximum cruise speed is 62 mph, climb rate 500 feet per minute, and range 25 miles with 8 kWh batteries.//Experimental Aircraft Channel