Really, a one of a kind…well 1 in 80 rig. They only made about 80 of these, and they were built and sold in Japan through the late 80s and early 90s. What is it? This is an all original, unmolested 1 owner 1993 Toyota Hilux Galaxy Fiberglass Camper. 100% Fiberglass, no wood subfloors, or bottoms on the LN106 Truck chassis. The LN106 is the solid front and rear axle diesel Toyota pickup, powered by the 2.8L Toyota 3L Diesel engine mated to a stout 5 speed manual transmission.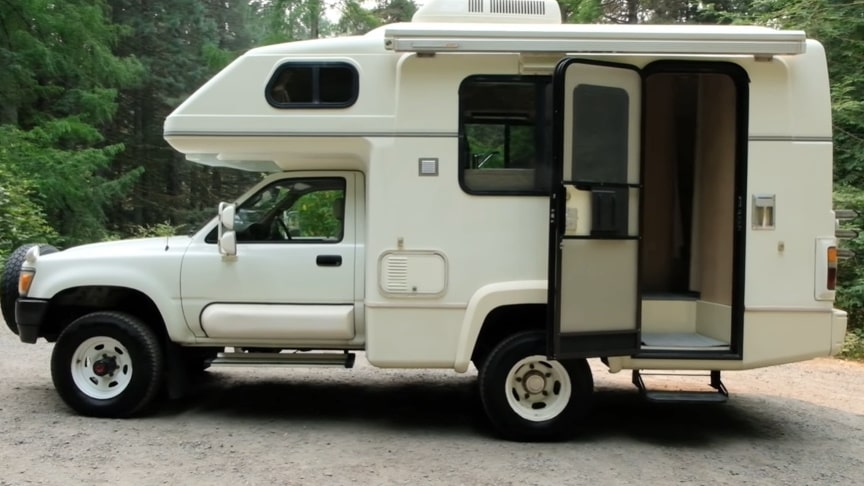 source/image: OttoEx
It's the perfect marriage of form and function, and it gives birth to the ultimate go-anywhere vehicle. The 3L is renowed for it's reliability, not so much for it's speed. It will go anywhere, slowly. But, this isn't about speed, it's about getting to those places way out there – and bringing your very own japanese hotel room with you, complete with roof-air, the Onan Microlite 2800 Generator, a hot shower, and a still functional Funai VHS TV. Watch the video from OttoEx:
This is like a 4×4 Toyota Sunrader, but so much more. It gets around 18-20mpg and it cruises comfortably at 65-70mph on the freeway. The Speedometer was switched out for one that reads in MPH as well. The rig has certified 58,400 original miles on it.
Advertisement
The interior build quality on this is exceptional, as someone who has personally owned 3 Sunraders and several other variety of Toyota campers -this is truly something special. The wood grain paneling and cabinets, the incredibly comfortable cushions and upholstery, the buttoning curtains all around, it all has very exceptional fit and finish which can really be only truly appreciated if seen in person.via: OttoEx