The Pambuffetti PJ-01 is a sports car produced by Pambufetti, which was founded in 2018 by Juri Pambuffetti.This is the Pambuffetti PJ-01. A brand new Italian hypercar, inspired by F1 and costing $2 million.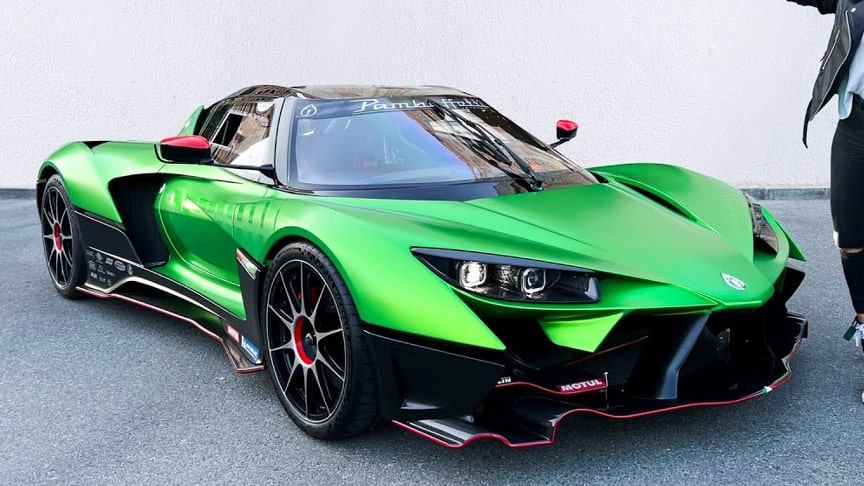 source/image: Supercar Blondie
The Pambuffetti PJ-01 weighs only 1100kg and produces a staggering 800HP which means the power-to-weight ratio really makes this a racing car for the road.Watch the video from Supercar Blondie:
The Pambuffetti can hit 0-100km/h in under 3 seconds and today Domi alongside Mr. Juri Pambuffetti himself gives us a closer look at why the Pambuffetti PJ-01 is one of the coolest and most exciting cars we've seen this year!The PJ-01 features high downforce values, which makes high cornering speeds and high braking deceleration possible.
Advertisement
The power-to-weight ratio of the PJ-01 is given as 1.3 kilograms per hp. A 588 kW (800 hp) 5.2 liter V10 mid-engine empowers the car. It is designed as a naturally aspirated engine and is designed to accelerate the sports car to 100 km/h (62 mph) in three seconds. The top speed is specified by Pambuffetti PJ-01 as 320 km/h (200 mph). The steering wheel is designed based on that of one used in Formula One and can also be removed.