Panasonic and Tropos Technologies have teamed up to co-innovate the capabilities and features of on the line of Tropos ABLE electric vehicles.The ABLE™ FRV is ready to serve in spaces large or small, indoors or out, and is equipped with a Kimtek® Firelite® Transport FDHP-301-125: an industry proven unit with a low-profile and low center of gravity.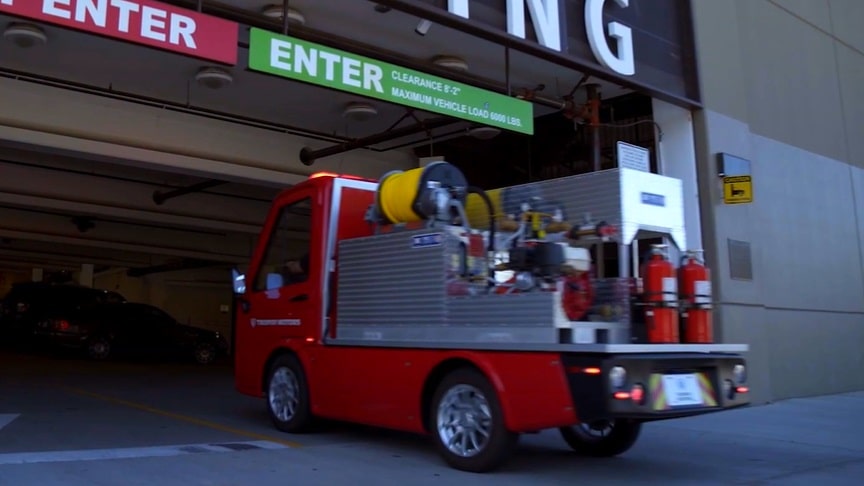 source/image: Panasonic USA
This low-cost, ultra low maintenance truck has an estimated 144 MPGe, up to 4.3 M/KwH. It has a variable range of 40–120 miles, and an etronically adjustable top speed of 40+ mph on closed campuses. The ABLE™ boasts an ultra tight turning radius of 12.5 feet, making it ideal to operate in small spaces. Easy to charge, the ABLE plugs into any 110v outlet.
This 125 gallon unit tank is fully baffled according to NFPA (National Fire Protection Association) standards, and comes with an electric rewind Hannay 4000 series reel and Scotty Around-the-Pump class-A foam system with 5 gallon foam cell.
Advertisement
Standing at 6'5″, the ABLE FRV is within height restrictions to safely enter most parking garages, factories, and warehouses. The ABLE FRV produces significanly fewer emissions than a gas-powered truck and it is safer to oeprate indoors with an emissions-free, all-electric drive train, and an industry standard gas-powered water pump.