Porsche 997 Turbo review! The 997 Porsche 911 Turbo is an amazing bargain. Today I'm reviewing the 997 Turbo, and I'm going to show you all the quirks and features of one of the best overall modern 911 models. Then I'm going to drive the 997 Turbo and I'll review the driving experience, and I'll show you what it's like on the road with a great car.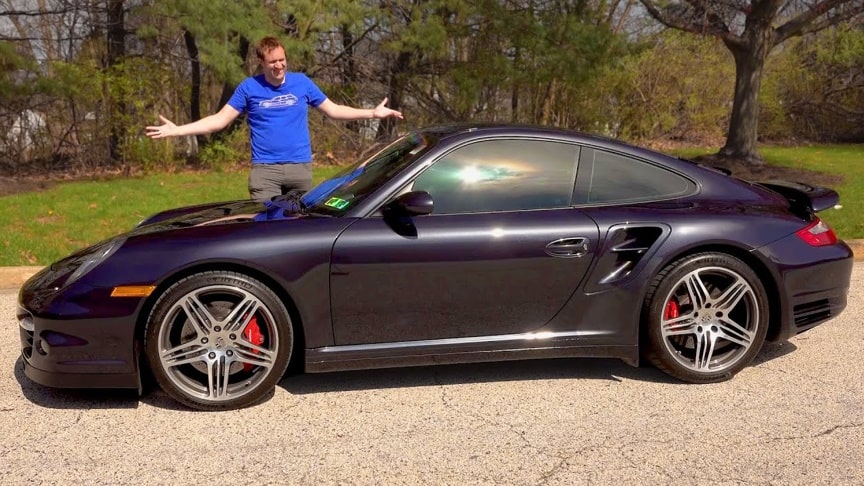 source/image(PrtSc): Doug DeMuro
The 997 was an evolution of the preceding 996, with the most significant changes being interior and exterior styling, the most notable being the replacement of the "fried egg" headlamps used on the 996 with the classic "bug eye" units. Larger 18-inch wheels were fitted as standard, and other engineering changes include slightly increased power.
The 997 Turbo debuted in February 2006 at the Geneva Motor Show. It featured a new front bumper with LED turn signal strips integrated in the air intakes; the fog lamps were moved to the corners of the bumpers.The engine was based on the 911 GT1's design and is rated at 480 PS and 620 N⋅m of torque.
Advertisement
The torque is managed by Porsche Traction Management (PTM) system in conjunction with the Porsche Stability Management (PSM) system in order for a safer utilisation of the torque produced by the engine.According to official Porsche figures, the 997 Turbo accelerates from a standstill 0–100 km/h (0–62 mph) in 3.9 seconds with the manual transmission, and 3.7 seconds with the 5-speed Tiptronic S transmission. Benchmark times to 200 km/h (124 mph) are 12.8 and 12.2 seconds, respectively. Maximum speed with either transmission is 310 km/h (193 mph)..//Doug DeMuro