A company called Furrion, built "Prosthesis," which is the world's first and largest, purpose-built, off-road exoskeleton racing mech, which was designed and made to pioneer an entirely new sport of mech racing.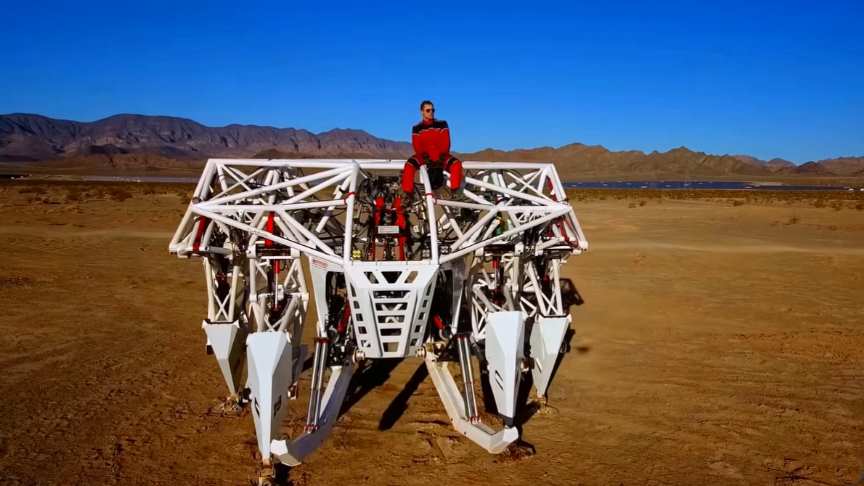 source/image(PrtSc): Wonder World
It even has a Guinness World Record certification as the world's largest four-legged exoskeleton.Here are some of the things it is capable of and that Johnathan has done with it so far.
Towing a Dodge RAM and flatbed trailer, with a combined weight of more than 4500kg (10,000lb), out of the desert sand when it got stuck during a testing deployment.Climbing on to and off of same trailer (self loading).
Advertisement
Towing a 12,000kg (26,000lb) Fire truck,Shoving a rusted out school bus out of a yard when the tow truck got stuck. Climbing over a 660cm (26 inch) high concrete traffic barrier.Climbing on to a 1.4m (4.5 ft) high dumpster and crushing down the contents so we could get the lid closed. Photo here. Lifting objects up to 1000kg (2200lb).Top recorded speed to date: 5.6km/h
TECH SPEC:
Height: 4m
Width: 5.5m
Length: 5.1m
Weight: 4000kg
Power: 200hp
Power plant: 350kg lithium ion battery running twin AC motors, driving hydraulic pumps.
Charge time: 5hrs
Runtime: 1hr training – 20min racing
Material: CrMo steel