Puch is a manufacturing company located in Graz, Austria. The company was founded in 1899 by the industrialist Johann Puch and produced automobiles, bicycles, mopeds, and motorcycles. It was a subsidiary of the large Steyr-Daimler-Puch conglomerate.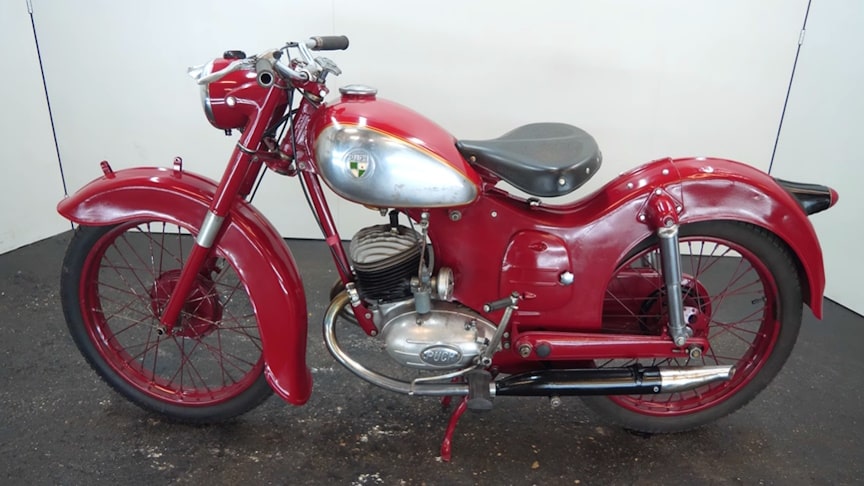 source.image: classic-motorcycle.com
The TL is an older restoration and, as we know from Puch, still runs reliably.The model name TL stands for touring luxury. Between 1951 and 1953, 2,430 of these 150s left the Puch works.
Together with the sports model 125SL, the TL also had the shell frame and high 19-inch wheels as a feature. The TL models were painted blue, while the SL, like all sports models, was delivered in red.Displacement: 150 cc.Cylinder: 1 – split single.Engine type: 2-stroke.Bore / Stroke: 40 x 59.6 mm.Power: 7hp @ 5.500 rpm.Weight: 96 kg.Top Speed: 85 km/h.
Advertisement
In the late 1980s, the company was being squeezed out by competition. In 1987, a massive restructuring of the company led to the end of the production of two-wheelers in Graz. The company's technical know-how was always better than its marketing and commercial success. The Puch motorcycle company was sold to Piaggio, maker of the Vespa, in 1987 and still produces bikes under the name Puch.