This fascinating pre-war split single bike is in good shape and should not be missing in any Puch collection.Puch automobiles were successful at the pre-war Österreichische Alpenfahrt rally and from 1913, the four-cylinder 38 PS (horsepower) Type VIII Alpenwagen was manufactured in Graz. During World War I, Puch became an important vehicle supplier to the Austro-Hungarian Army.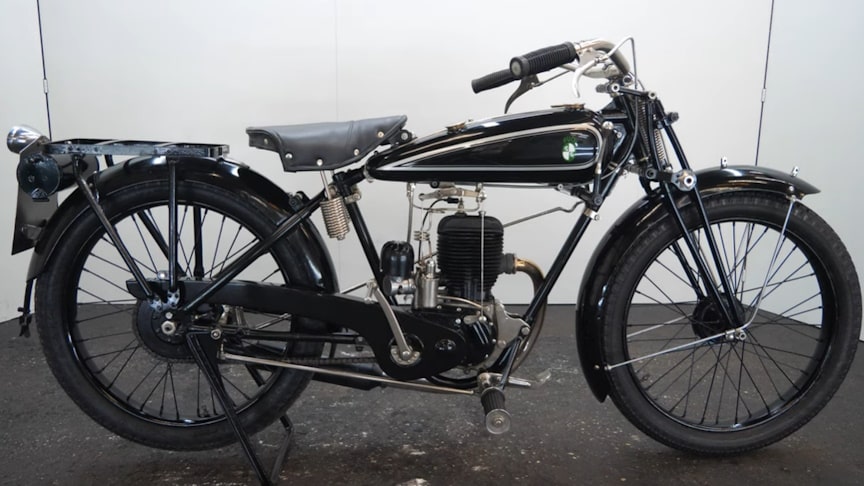 source.image: classic-motorcycle.com
The Puch green and white chequered badge is in the colours of the Steyr town flag and is very similar in concept to the BMW badge, which is in the colours of the Bavarian flag. With the collapse of the Austro-Hungarian empire following the War, the market for automobiles shrank and production was discontinued. However, again in 1919, the new Type XII Alpenwagen was developed.
In 1923 the Italian engineer and FIAT agent Giovanni Marcellino is said to have been sent by the banks to wind up the Puch factory in Graz. Instead of which, within a few weeks he had settled down to live in the town, designing and then producing a new version of the split-single.
Advertisement
Taking his inspiration from industrial counter-piston engines, the new engine benefited from the improved breathing of the Italian original, to which he added asymmetric port timing. In 1931 Puch won the German Grand Prix with a supercharged split-single, though in subsequent years the split-singles of DKW did better. In 1928 the company merged with Austro-Daimler into the new Austro-Daimler-Puchwerke. This company in its turn merged in 1934 with Steyr-Werke AG to form the Steyr-Daimler-Puch conglomerate.Model: 220.Year: 192.Displacement: 223 cc.Cylinder: 1 – split single.Engine type: 2-stroke.Bore / Stroke: 45 x 70 mm.Power: 4.5hp @ 3.500 rpm.Weight: 83 kg.