ORBITER, a real mobile unit with the full electrical power of an agricultural tractor, can be used for different operations, for example as a snow remover, on gravel, on soil, or connected to a trolley or any other accessory through its posterior tow hook, positioned so as to allow the exact balance of the machine during towing, thus avoiding unwanted inclines or loss of traction.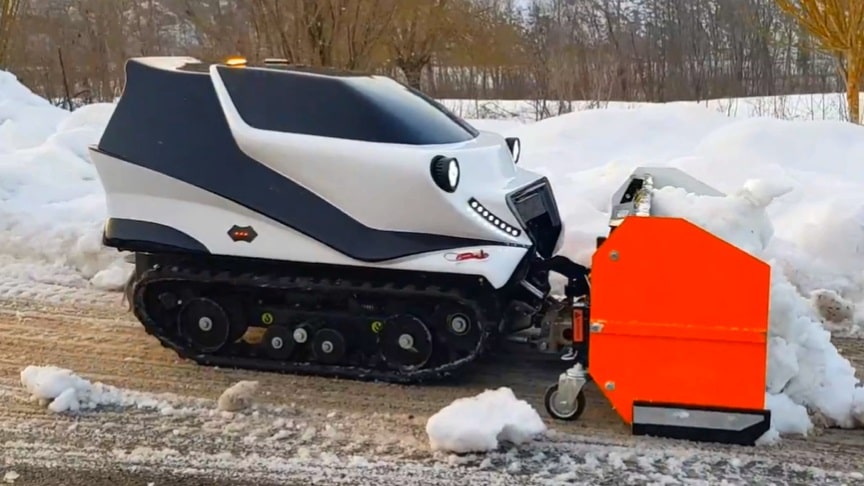 source/image: ATR – Robotics
Thanks to the incredible tractive force, delivered by the powerful main engines coupled with strong torque-reducing multipliers, Orbiter is able to pull extremely heavy loads. Designed and developed to provide the best possible performance in every situation, it can move with precision in either wet or dry grounds, mud and sand minimizing slippage.
The flexible material with which the 180 mm wide tracks are made of, allow the robot to overcome obstacles such as rocks, stones, branches and tree trunks or difficult slopes up to a maximum inclination of 71%The track's convenient automatic tensioning system helps the robot to achieve optimal condition for all types of terrain.
Advertisement
The robot is powered by four rechargeable AGM batteries, each sealed and tightly isolated from 6V and 230Ah, supplying power up to 5520W.This solution is of a low environmental impact since it does not require maintenance and prevents leakage of harmful liquids and noxious gases even in the event of a reversal, these batteries also have a heightened life span and very short charge cycles.