Volkswagen XL-1 review! The Volkswagen XL-1 is a very special car, as only 250 of these were built for the world. The XL-1 also a $150,000 car that's both an economy car and a supercar — and it's full of bizarre quirks and features. Today I'm reviewing the XL-1, and I'll show you all the quirks and features of this weird car. I'll also drive the XL-1 and show you what it's like behind the wheel of such an unusual car.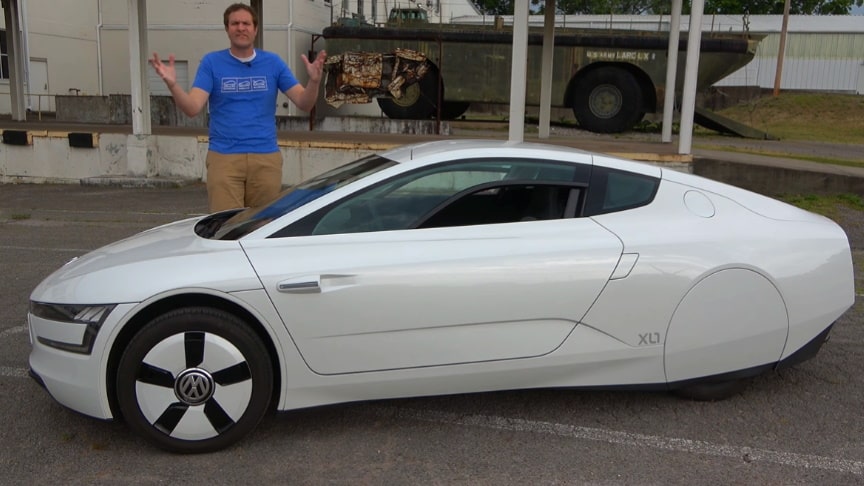 source/image(PrtSc): Doug DeMuro
The Volkswagen XL1 (VW 1-litre) is a two-person limited production diesel-powered plug-in hybrid produced by Volkswagen. The XL1 car was designed to be able to travel 100 km on 1 litre of diesel.To achieve such economy, it was produced with lightweight materials, a streamlined body and an engine and transmission designed and tuned for economy.
The Volkswagen XL1 plug-in diesel-electric hybrid was available only in Europe and its 5.5 kWh lithium-ion battery delivered an all-electric range of 50 km.As with the 2011 concept XL1, it is powered by an 800 cm3 two-cylinder diesel engine with 35 kW and a 20 kW (27 hp) electric motor. The combined power output is 51 kW 68 hp and torque is 140 N⋅m .Power is delivered to the rear wheels through a seven-speed dual-clutch gearbox.
Advertisement
For aerodynamics, the car seats two in tandem, rather than side-by-side. There are no rear view mirrors and it instead uses cameras and electronic displays. The rear wheels are close together to allow a streamlined body. The body and frame are designed with crush/crumple zones and roll-over protection, and the tandem seating means large side crush zones./wikipedia