The Bell 412 is a utility helicopter of the Huey family manufactured by Bell Helicopter.It is a development of the Bell 212, with the major difference being the composite four-blade main rotor.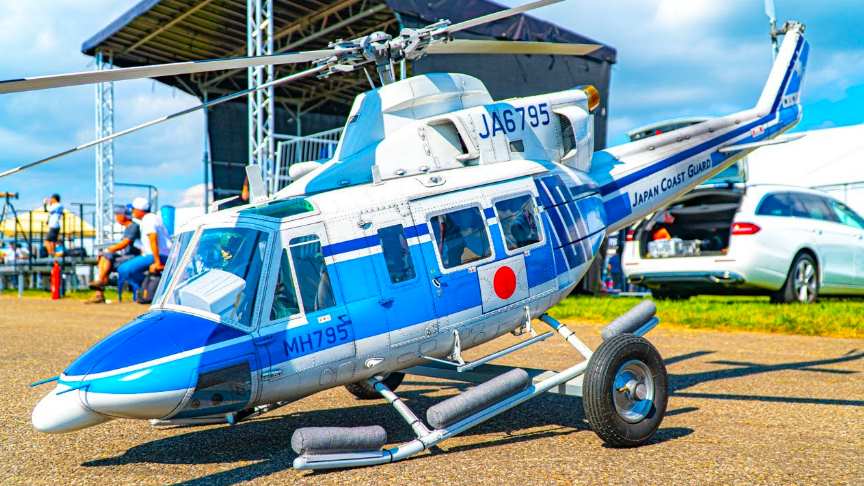 source/image(PrtSc): DIGITAL RC
The models of the Bell 212 and Bell 412 are identical up to the rotor head area. The Bell 412 is equipped with a 4-blade rotor and therefore has a better performance with less vibration and lower noise level. video by DIGITAL RC.
This giant RC Bell-412 has the cockpit in precisely the right location and the mechanics are built into the engine compartment just like in the full scale version. The rotor diameter of this RC Bell is 2.5m with a take-off weight of 24.8kg powered by Jakadofsky 5000 Turbine engine.
Advertisement
The B412 really impresses with the highly detailed and accurately scaled down profile.The turbine version fascinates by the smell of kerosene, a gently starting rotor, accompanied by the unmistakable sound of a turbine.
Model: Bell-412 (JA6795) Japan Coast Guard
Rotor Diameter: 2,50 m
Take-off weight: 24,8 kg
Engine: Jakadofsky 5000 Turbine
Pilot: Thomas Kemmerer
Builder: Matthias Strupf / http://heliclassics.de/
Event: Jet Power 2019, Genderkingen, Germany