Forget those RC cars or those weight pulling RC Tractors because this impressive RC flying vehicles will absolutely blow your mind. Hans Bühr and his Wife showed of their Self construct space shuttle at 10th Jet World Master Opening. They created a scaled version of two aircrafts.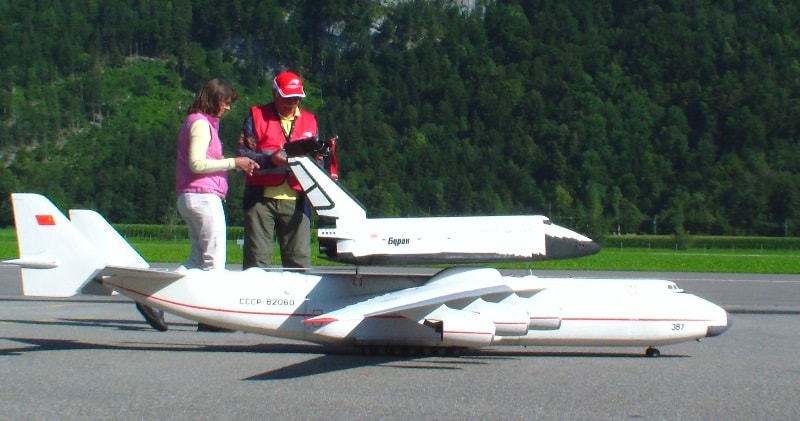 image credit: RCHeliJet 
The first one is the Buran Spacecraft and the other one is the Antonov An-225 which is actually designed initially to transport the Buran. They are both powered by 6x EDF Motor's. Here, the Buran can be seen on top of the Antonov An-225 and they flight off the run way in a very realistic way.
What makes it more fascinating is when the Buran separated while they are both on air. What an impressive creation indeed.We are sure you have heard of the Russian very well-known planes – Antonov and Buran! Now meet their remote control versions, RC Antonov and RC Buran! You will be amazed with them.
Advertisement
Hans Bühr and his Wife with the Antonov AN-225 Mriya and the Buran Space Shuttle controlled by Edgar Bruhin both Remote Controlled.!!!Fantastic self Constructed Extrem Airplane with 6x EDF Motor's.!!! Very nice Modell.!!But it give a small Problem.Hanging Buran on the Fin behind the Antonov.!!