To maximize flexibility and safety the REV-1 is light-weight and low-power enough to qualify under e-bike regulations. However, it is still fast and nimble enough to operate in traditional car lanes and move through the world without impeding traffic.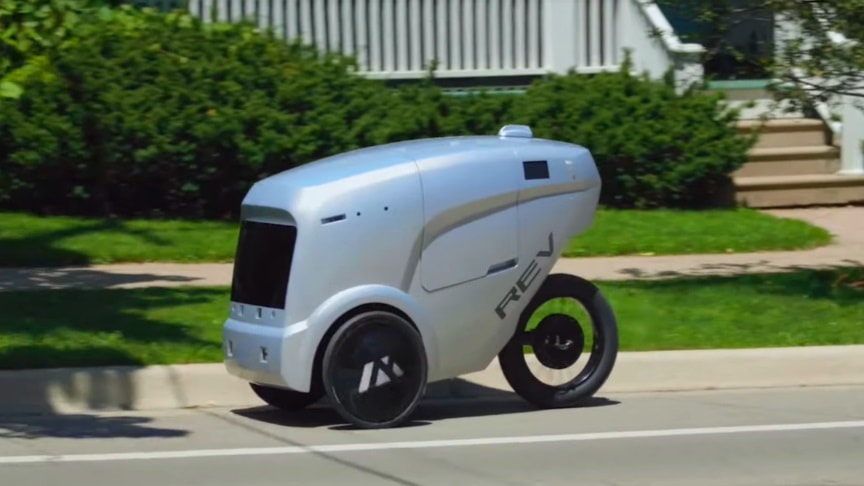 source/image: Refraction AI
The size and weight of the vehicle makes a big difference in the way it operates, where it can go, how long it takes to stop, and how safe it is in an accident. The REV-1 has balanced size and weight to make the most capable street worthy vehicle possible without the risks and challenges of full-sized passenger car autonomous vehicles./ read more: refraction
Critical to the REV-1's cost and safety is an incredibly short stopping distance. This means we can use lower cost sensors like cameras to see and we can stop on a dime to prevent accidents. When combined with the REV-1's light-weight, Refraction has one of the safest most capable vehicles out there.
Advertisement
The REV-1 is about the size of an electric bicycle. It is a tricycle and stands 5 feet tall, 4.5 feet long and 30 inches wide. It weighs approximately 100 pounds and can reach a speed of up to 15 mph.The company said that makes it fast enough to make timely deliveries."We pick up goods from places like restaurants, pharmacies, and grocery stores and bring them directly to your house, enabling faster, cheaper, and safer delivery to meet customer's growing expectations."///read more: refraction