As a child, Maria Chillida made some of her strongest memories with her father, reputed sculptor Eduardo Chillida, at the water mill home that he had restored like one of his sculptures. When the government expropriated the home to build a dam (despite a fight from the family), Maria committed to find another mill to restore one day.She and her architect son Jon Essery Chillida spent 10 years searching for another watermill that they could restore to create a place deeply embedded in its environment.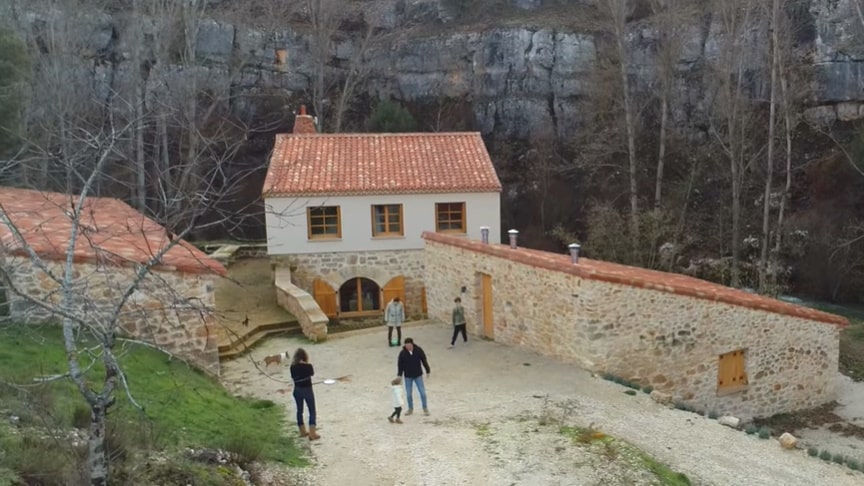 After receiving hundreds of responses to their ads, they found an abandoned mill compound down a long dirt road that immediately felt right.When they purchased the property, water ran directly under the house to power a turbine at the center that both turned the millstones to grind flour and to power the house.
Unfortunately the permit to deviate water under the mill was only for purposes of grinding flour on an industrial scale, so Essery began to reimagine a home that still respected the natural flow of water here.Over the next several years the family restored not just the mill but the accompanying stable, chicken coop and hog house into a gathering place for extended family and friends.
Advertisement
The original stone was preserved, but much of the old wood had to be replaced. Essery used locally-milled pine to create light and airy spaces. The old turbine still sits at the center of the house (now the pantry) and the wooden grain hoppers are stored in the hog pen turned garage. Essery tried to re-permit the mill, ultimately without success, but he believes that one day the mill could run again. For now, the family is happy with a home in direct connection with the river.