The New Adonis model from Robetamobil on the Mercedes Benz chassis with its length of 5.93m and standard engine power of 190PS represents the very top of the Robeta model fleet. Is synonymous with luxury and prestige and on the other hand, due to its compactness, innovative ideas, and utility, it is an ideal partner both for everyday use as well as for long adventurous trips.Despite the length, which is slightly less than 6m, the vehicle is designed for traveling and accommodation for 4 people and is an ideal choice for anyone who wants something more every day.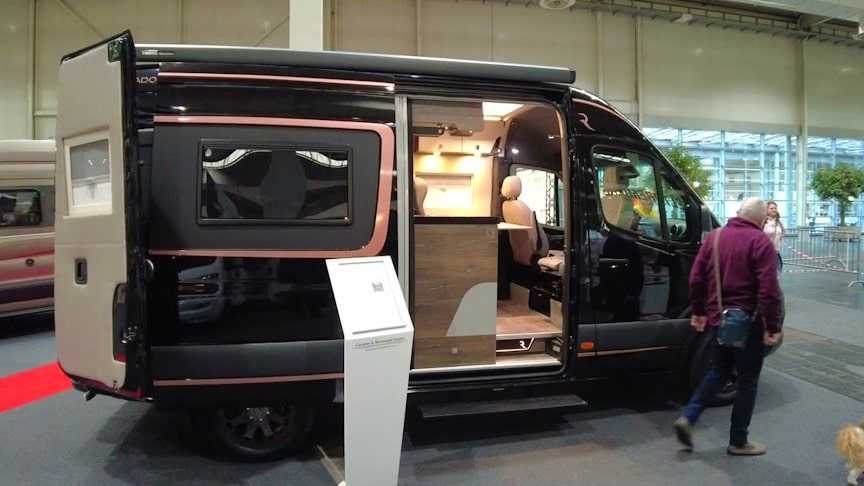 source.image: miniCampers
The Adonis model is already fully equipped and configured, as far as the chassis is concerned, it has all possible equipment that can be supplied by Mercedes Benz; from the top audio navigation system to all possible assistance and safety systems like Blind Spot, 360-degree camera, etc.., automatically closing and electric sliding doors, LED high-performance daytime running lights and much more.
The living room equipment is also fully configured and includes a 100 Ah LiON battery, 230W solar system, electric valves for waste and drinking water, a digital display with control of all electrical devices, etc.The model contains a lot of innovations, it is necessary to emphasize the kitchen counter made of real Kerrock and the "hidden" sink, the bathroom with innovative 180-degree double-leaf glass doors, which allow a completely new perception of the use of the bathroom space.
Advertisement
Where at the same time the left door leaf also serves as a night partition between the living and sleeping areas. It is also necessary to mention a huge number of designer solutions, as well as the toilet electric ceramic shell, which works according to the "macerator" system with its individual waste tank, seen on larger and more prestigious yachts./via read more: Robetamobil