The Sikorsky S-67 Blackhawk was a private-venture, prototype attack helicopter built in 1970 with Sikorsky Aircraft research and development (R&D) funds.A tandem, two-seat aircraft designed around the dynamic drive and rotor systems of the Sikorsky S-61, it was designed to serve as an attack helicopter or to transport up to eight troops into combat.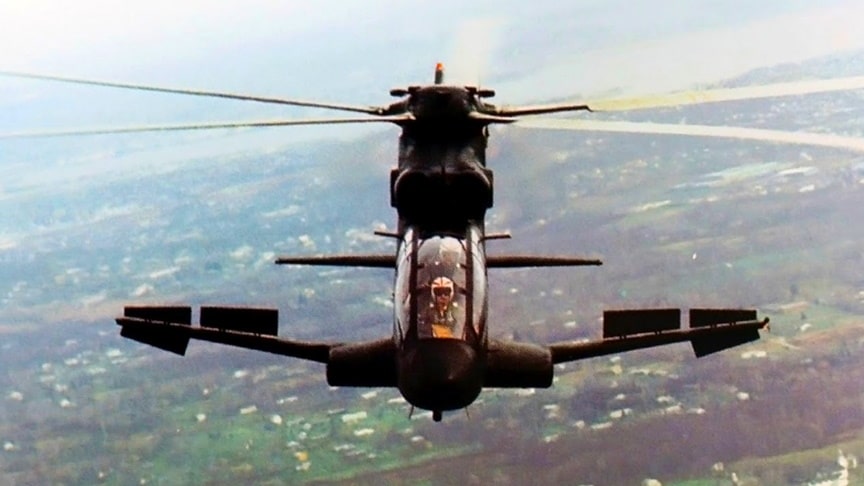 source/image(PrtSc): Dark Skies
Their newest prototype, however, caught the attention of the Army. It was the S-67 — a unique helicopter with tremendous capabilities for any kind of combat situation thanks to its slender fuselage and its astonishing amount of firepower. Watch the video from Dark Skies for more info:
It was the ideal chopper for winning the war in Vietnam, but sadly, it arrived too late to change the tide of the fight.Only one Sikorsky S-67 was ever completed. It was America's first Blackhawk. Technically the only Blackhawk before the name was changed to Black Hawk for the UH-60 to be used in a support and utility role.
Advertisement
The S-67 performed a series of aerobatic maneuvers during its various marketing tours, including rolls, split-S, and loops. The S-67 was reputed to be very smooth and responsive, in spite of its size and speed.Piloted by Sikorsky Test Pilots Kurt Cannon and Byron Graham, the S-67 established two E-1 class world speed records on 14 December 1970 by flying at 348.97 km/h (217 mph) over a 3 km (1.9 mi) course, and 355.48 km/h (221 mph) on 15 to 25 km (9.3 to 16 mi) course on 19 December 1970.These records stood for eight years./wikipedia