The SARIT, a made-in-Canada compact electric three-wheeler,the SARIT is designed to help you get around safely and congestion-free. It can go anywhere a bike can go and is small enough to take advantage of city bike lanes and parking. It's also great for short urban trips, picking up groceries and running errands.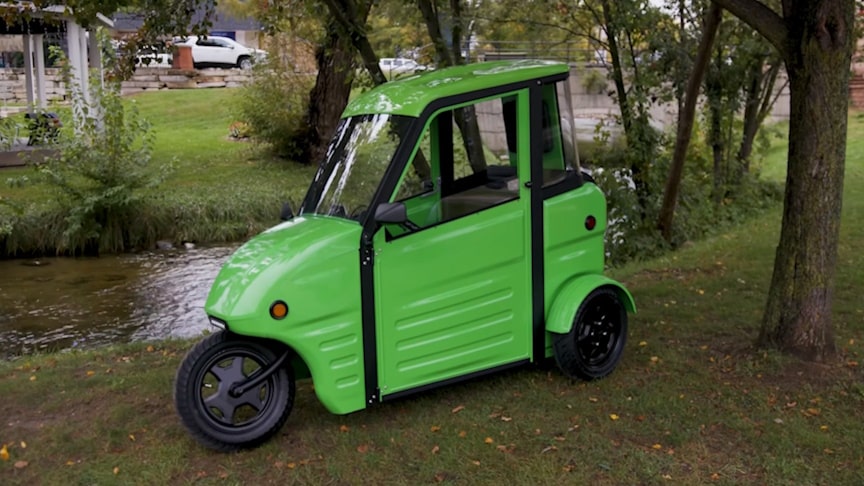 source.image: SARIT Mobility
The Sarit is all aluminum, with a strong space frame (painted black) surrounded by aluminum body panels that come in various colours. The doors can also be removed easily, without tools, for open-air motoring. With a 4.6 kWh battery, the Sarit can travel up to around 100 km on a full charge.
It's also limited to just 32 km/h, as per proposed legislation on microcars, but that also means anyone can drive it, even without a licence.The compact three-wheeler is indeed tiny, measuring just 3 feet wide, 7.5 feet long, and 5.5 feet high, but it can comfortably transport not just one but two people.
Advertisement
There's a small storage compartment behind the seat, accessible through a trunk-style lid at the back, while an exterior holder can carry shopping baskets or golf bags. The windows slide open and the doors can be removed for warm-weather driving.
As 4 SARITs fit in a regular parking space, micro-mobility vehicles not only improve congestion and parking issues, but also the impact on the environment and the power grid.Choose from numerous amazing, vibrant colours. Pick the one which matches your taste and personally.Each vehicle is equipped with locking doors, locking trunk, speedometer, and disk brakes on every wheel.