Build by Ukrainian Company QUADRO INTERNATIONAL, the new SHERP the Ark vehicle is a rugged all-terrain transportation solution that is engineered to easily handle even the most extreme conditions to keep operators agile at all times.The Ark has an intuitive steering wheel control that features a 3-axis articulated steering system. It allows the driver to go over multi-level obstacles with ease.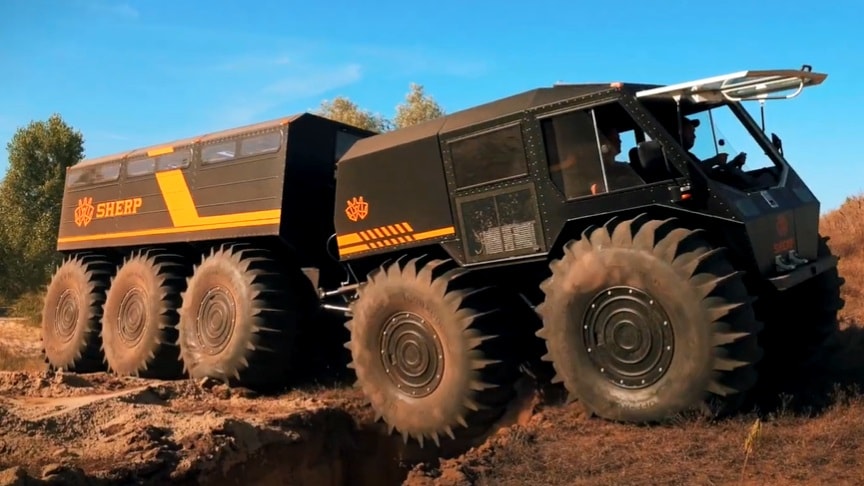 The head unit of the Ark rises and rotates along 3 axis providing additional climbing capacity for difficult obstacles.Capable of handling load capacities of 7,500lbs, the vehicle is capable of overcoming obstacles as high as five feet and can also handle ditches as low as two meters in width.
The vehicle can climb slopes with a 40-degree pitch and is capable of offering a max speed of 18.6mph when on land along with 3.7mph when on water.The vehicle is equipped with a unique air-circulation system that uses exhaust gases to inflate or deflate them as required. The tires are connected by a pneumatic circuit that allows the driver to adjust the tire pressure to different terrains and payloads.
Advertisement
The Ark all-wheel control system allows the driver to switch between different driving modes. If necessary, the head unit drive can be turned off. The rear section drive is ideal for moving over difficult terrains. In all-wheel control mode, the torque transmitted to the front and rear sections and provides better traction, safety, and handling.
14980 lb — Load capacity
5 ft — Step crossing
40° — Descend/climb capacity
3.7 mph — Max. speed
6 kmph — Overwater speed
82 hours — Fuel autonomy