The Sherp is a manufacturer of all-terrain amphibious vehicles, designed for rough and soggy terrain.The design of the SHERP was developed in such a way that its repair could be carried out anywhere by a minimal amount of tools and without deep specialized knowledge.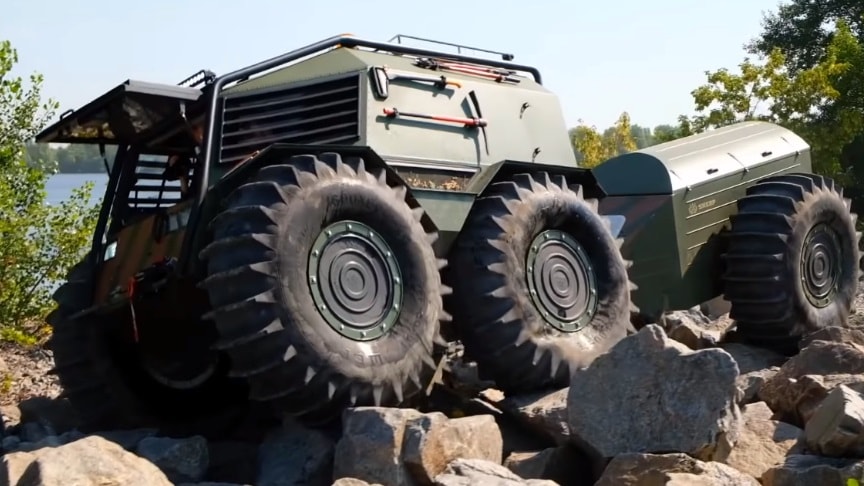 source/image: SHERP ATV
Suspension and transmission without many traditional elements demonstrate the highest reliability. Only the minimum of required electrical appliances is used. In this case, the engine itself is able to operate without electrical equipment functionality.
Each SHERP tire has a volume of about 800 liters (210 gal). The total volume of the wheels gives a displacement of more than 3,200 kg (7000 lbs). This allows the SHERP to move along the water, and the hermetic body prevents water from entering the compartment.
Advertisement
Therefore, the SHERP remains afloat even with zero tire pressure or without all 4 wheels.The control unit is equipped with two pedals and two levers, as well as a set of control devices. In addition to snow, mud, and marshes, the cross-country vehicle overcomes obstacles up to 6 ft in height.
The Sherp is powered by a Japanese Kubota-V1505-t turbo-diesel engine, paired to a 5-speed manual transmission,it produces 44 horsepower. The Sherp's maximum speed is over 40 km/h on land and 6 km/h on water and can tow up to 2500 lbs.