Oasis 610 ST is characterized by two completely separate sleeping areas: the front drop-down bed and the bunk beds in the rear. If you are traveling in 2 or 3, and the lower rear bed is not needed, the bunk beds, with a simple gesture, turn into a large garage compartment for the transport of bikes, scooters, camping equipment and everything you need for the holiday en plein air. The camper is powered by Fiat Ducato 160 BHP with 9 speed automatic gearbox.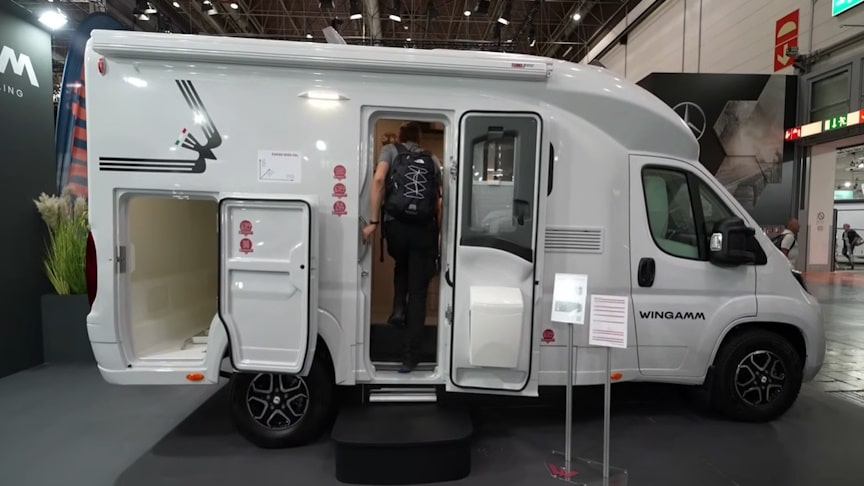 source.image: miniCampers
Well sized based on Dodge Promaster with 149.61in wheelbase, has a very short rear overhang, a widened rear track and 16″ tires for maximum road holding, stability and lower consumption with performances that always amaze!As in all Oasi models, the entrance door and external hatches are equipped with central locking "Safety Block System" and the floor is fully heated with the "Floor Comfort System".
The toilet compartment located in the rear area is made of solid fiberglass and HPL laminate. The corner sink console finished in solid ivory-colored fiberglass amazes for its size.The wingamm patented double longitudinal fold-down bed is quick and easy to use and comes complete with wooden slats and memory-foam mattress. The side wall units remain usable also from the drop-down bed. It always stays ready to use with duvets and pillows in place. The side wall units remain usable even from above the bed.
Advertisement
With the SkyView panoramic roof above the head of the bed, you can fall asleep looking at the stars.Contemporary design for the kitchen block with top in resistant HPL laminate with large fiberglass sink lid / cutting board. The hob has 2 burners with flush-top lid and the trivalent refrigerator is a 5858 cubic inches with freezer compartment. In the GL version the kitchen block (which in the ST version is to the left of the door) is positioned to the right so as to be more wide and functional.