This is the Subaru XT, the weirdest Subaru ever made. Today I'm reviewing this Subaru XT and I'll show you all the many quirks and features. I'm also going to get behind the wheel of the Subaru XT and show you what it's like to drive.The Subaru XT is a two-door, front- or all-wheel drive, four passenger 2+2 coupé manufactured and marketed by Subaru for model years 1985-1991, with a facelift in 1987. At introduction, the XT was the most aerodynamic car marketed in the US market,heavily influenced by noted designer Alex Tremulis.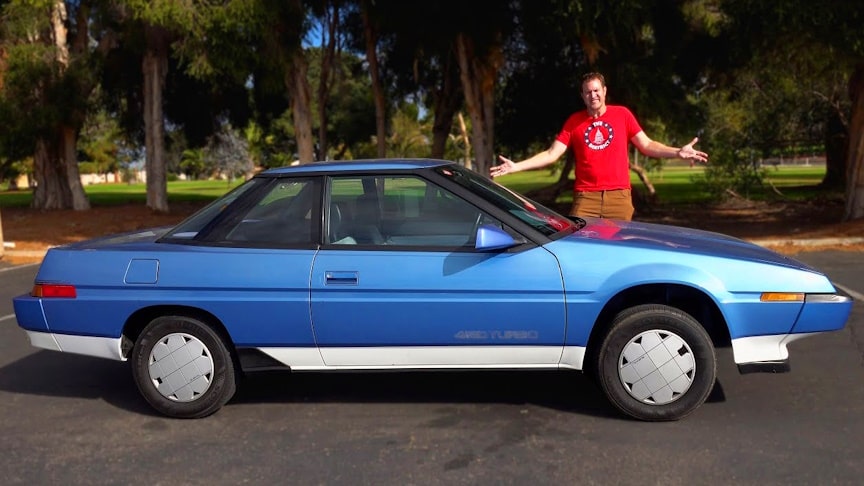 source.image: Doug DeMuro
The XT featured a pronounced wedge shape, sharing a common "folded paper" design approach with the Type AA Subaru Leone.The XT's interior used numerous aviation-like features, reflecting influences from the aircraft division of Subaru's parent company, Fuji Heavy Industries. The instruments featured pod-mounted controls for lighting, HVAC and wipers.
The instrument panel moved with the standard tilt-telescope steering to keep the instruments oriented to the driver, recalling the same feature on the Isuzu Piazza and the Ford Probe introduced earlier in the 1980s and the Porsche 928 in the late 1970s. The joystick-shaped shifter integrated a thumb trigger interlock for the "on-demand" four-wheel drive.
Advertisement
The 1985 XT was fitted with one of two engines:EA-82: 1781 cc H4 producing 97 hp (72 kW) at 5200 rpm and 103 ft·lbf (140 Nm) at 3200 rpm (9.5:1 compression ratio).EA-82T: 1781 cc turbocharged H4 producing 112 hp (83 kW) at 4800 rpm and 143 ft·lbf (194 Nm) at 2800 rpm in North American specifications. In Europe the power of the XT Turbo was 136 PS (100 kW; 134 hp); the naturally aspirated model was not sold there. Starting in 1987, power for North American cars increased to 115 hp (86 kW).