Tandem Centaur Bringing the future of electrification and sustainability into the supply chain of today. Instantly turn your truck into a hybrid electric.The Tandem Centaur is an easy to setup attachment that can be attached to any semi truck and make it electric within minutes.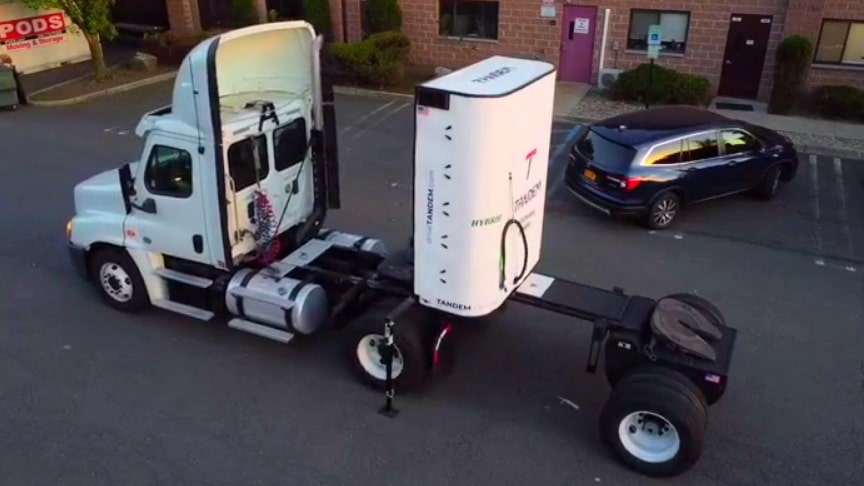 Converting to an all-electric fleet is prohibitively expensive and risky for many, with such challenges as existing diesel fleets, unproven new technologies, and a lack of charging infrastructure. With Tandem Centaur's instant hybrid solution, companies can safely and effectively migrate their way to a low-cost, sustainable future and reap the rewards that follow.
The Tandem Centaur delivers immediate results and requires up to 90% less upfront cost than full-electric, hydrogen, natural gas, or diesel options.When you want a charge, the batteries can be charged to 80% in 45 minutes – with a 250kW charger. Both CCS1 & CCS2 connectors are available.
Advertisement
Tandem's all-electric drivetrain provides 630hp and 4,670 lb-ft of peak torque output. This allows the Centaur to operate with the same responsiveness as your existing equiptment.The Centaur provides a fully-redundant braking system, helping to prevent brake failure and aid in the event of one. Our battery stack is made with a 2-hour fire wall for piece of mind.//via read more: drivetandem