The finest metals, the most up-to-date technical features and a high level of finish made the HSSE one of the finest French motorcycles of its day. She is running well and powerful.Manufacturer: Terrot Model: HSSE Year: 1930 Displacement: 346cc Engine type: 4-stroke / ohv Cylinders: 1 Power: 15hp/5.000rpm Bore/stroke: 70 x 90mm Top speed: 120kmh Weight: 115kg Frame number: 98920 Engine number: 69875.HSSE Technically, the HSSE borrowed from Terrot's racing bikes dry-sump lubrication by Pilgrim pump.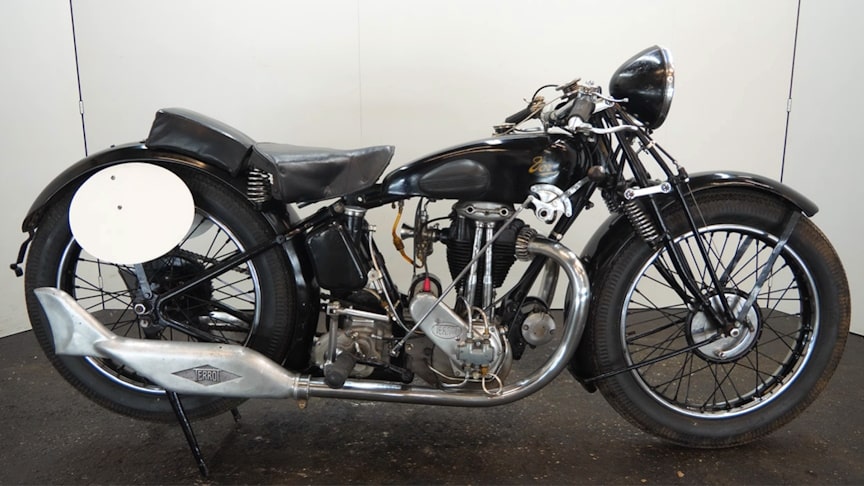 source.image: classic-motorcycle.com
A reinforced crankshaft in the finest steel available from France's leading metallurgists Aubert & Duval, an oversize connecting rod turning on a double-row roller bearing, wider teeth in the timing gear train and roller-ended cam followers. The frame passed beneath the dose-ratio gearbox, which was solidly fixed by four bolts. The rest was in keeping with the racebikes, like the sheet brass gas tank, the neatly filed brazed joints and the finest Duco enamel.
Terrot had spared no expense! The HSSE had few rivals in France, certainly not with a French engine. It's more difficult to judge on an international basis, since it was little known abroad. On paper, it beat Britain's BSA Sloper, the many JAP-engined bikes and even Norton. Sunbeam and AJS were as up-to-date but more expensive. Belgium's Saroléa was well built, but lacked the Terrot 350 HSSE's dry-sump lubrication.
Advertisement
In Germany, only NSU could match its specification, and there were few contenders from Italy. France built some fine sports motorcycles during the 1920s, and right at the end of that decade, Terrot of Dijon launched its HSSE, one of the best 350cc supersports of its day. The marque had only been back in the big league for four years when it launched the HSSE at the 1929 Paris Salon.