There's nothing more important in life than the people that we love and this tiny house is all about family and connection. Holly and Charles moved from the Blue Mountains to Queensland so they could help to care for Holly's mother, who has Alzheimer's disease. In an effort to keep her at home and out of care for as long as possible, the entire family has come together onto an amazing family compound where they can all support each other. This is one of the most beautiful family living situations I've ever seen.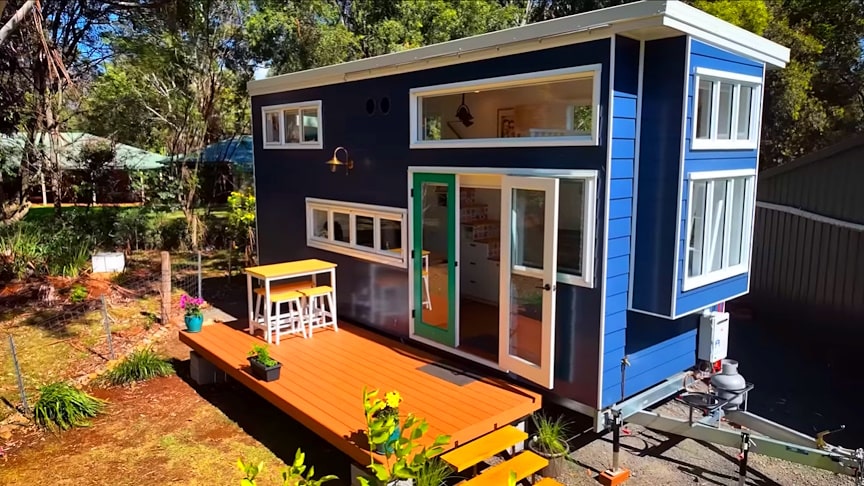 source.image: Living Big In A Tiny House
The tiny house has a very important part to play here. It gives Holly and Charles a wonderful home base. They are connected to the community and surrounded by family, yet at the same time also have privacy and a quiet place to retreat to. Their home is beautifully crafted and filled with colour and vibrance. When you look at this home, it makes your heart smile.
For Holly and Charles, being in this home has also given them the ability to lower their overheads and explore new carrier paths. Charles is doing some ultra interesting generative art, while Holly, a former intelligence worker is now helping to connect veterans suffering from PTSD with plant medicine. The move to the tiny home has been a cornerstone of making this massive life shift possible.
Advertisement
This may be a tiny home, but its overflowing with love. I feel very lucky to have been able to meet this amazing family. We hope you enjoy the tour of this beautiful tiny house and the wonderful people who inhabit it.