A speed test has been on my list for a long time, and now is finally the time. The structure is optimized for light weight and hovering flight, which becomes apparent in this speed test where the back side of this design surface, namely high drag.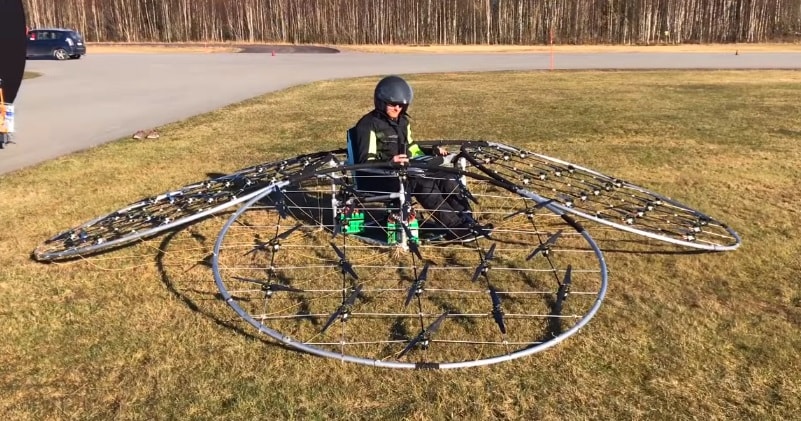 source/image(PrtSc): amazingdiyprojects
Sitting in the chAIR it fees pretty speedy but the actual ground speed of around 50km/h is not very impressive.Watch the video from amazingdiyprojects for more info:
There is still headroom on the throttle but when flying the vehicle it is apparent that air resistant becomes a significant counterpart around 50km/hand the overall flight efficiency drops.
Advertisement
A maximum practical take off weight test will be carried out later on this spring.
Specifications:
163kg TOW, 35kg LiPo currently mounted on the craft.
163kg TOW, 35kg LiPo currently mounted on the craft.
Typical hover efficiency 7.5-7.7g/W
Setup:
FC 5x KK 2.1 running stock 1.6 firmware
Motors 76x Multistar Elite 5010 274Kv
ESC 76x afro 20A HV, with one extra 63V 330uF low ESR capacitor fitted to each
ESC to handle the long current path from battery to ESC.
Batteries 80x Multistar 4S 5.2Ah
RC 5x Turnigy TGY-i6S Digital Proportional Radio Control System//via: amazingdiyprojects