Handicapped-accessible car design has taken a quantum leap forward in recent times. Now, a Czech Republic-based family business is taking things to a whole new level.Elbee is a vehicle you can drive directly from your wheelchair. You will thus avoid complicated methods of entering the vehicle, folding the wheelchair into the trunk and other complications associated with the use of vehicles converted to manual control.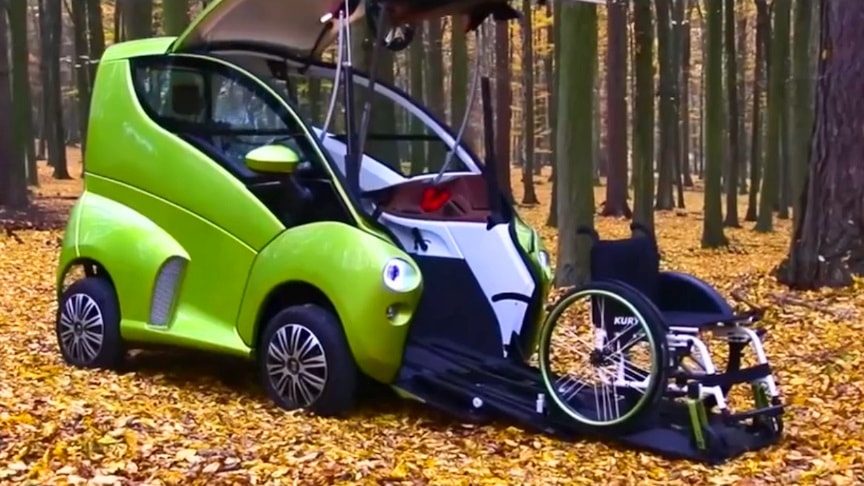 source/image: Elbee Mobility
Thanks to Elbee, even those who as yet could not drive at all or required the assistance of another person, can travel independently.The vehicle weighs 400 kg, drives on electricity, there is a petrol version too . Elbee can be driven in towns and cities, as well as on highways, as its maximum speed is 80 km/h.
The Elbee is definitely not your run-of-the-mill vehicle. Opening right from the front, it allows the driver to ride straight into it with his/her wheelchair. The car's front-end opening is an innovation that increases the self-reliance of wheelchair users who drive.
Advertisement
Enter the vehicle via a remote controlled front opening door and ramp. Simply roll inside, easily fix your wheelchair into the vehicle using a secure docking system and secure yourself using a four- point safety belt.
The door and ramp then close at the touch of a button and you are free to drive away.The Elbee is the latest in a series of similar vehicles designed for wheelchair bound users.But independence comes at a price as it will set you back around 15,000 euros.