The Elektro Dumper, also known as the eDumper, is a converted mining truck, modeled on a Komatsu HB 605-7.It's not just completely CO2-free, but it also claims to be the only electric vehicle that generates more energy than it spends.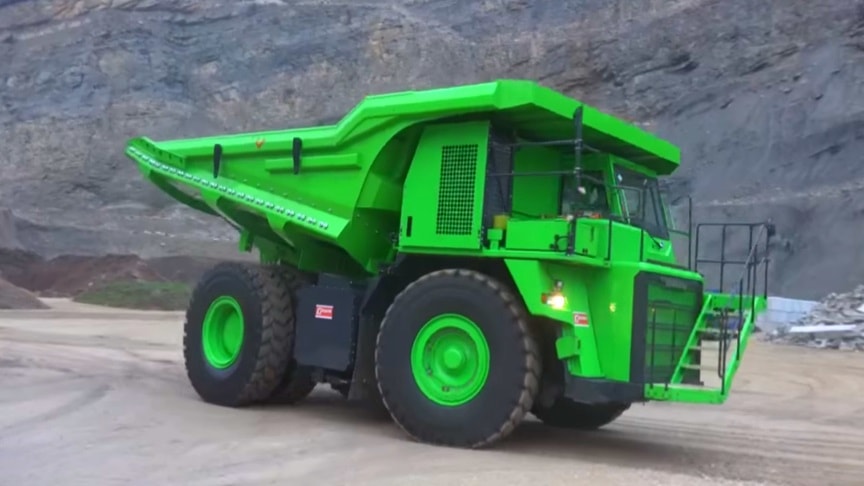 source/image: KUHN SCHWEIZ AG
It's 30 feet long, 14 feet wide, and 14 feet tall, plus the tires are six feet high and the dump bed reaches up to 28 feet when fully extended.The truck is used to haul lime and marlstone, which contains clay and silt, from the sides of mountains in Switzerland.
The Elektro Dumper weighs in at 45 tons and ascends a hill at a 13 percent grade, in a particular scenario. On its way back, the Elektro Dumper weighs more than twice its weight while carrying 65 tons of ore. It has 'regenerative braking system' that is capable of capturing the energy that is created while traveling downhill.
Advertisement
Most of this braking regenerates electricity, and since the vehicle is so heavy, it generates a lot of electricity, which is stored in the batteries. After dumping its load, the much lighter Elektro goes back up the hill using the charge it gained while coming down, and because it's much lighter, it needs less power.The truck has a 600 kWh electric battery that weighs a massive 4.5 tons,the eDumper claims to create a surplus of up to 200 kWh in energy daily.