The Falkirk Wheel is a rotating boat lift in central Scotland, connecting the Forth and Clyde Canal with the Union Canal. The lift is named after Falkirk, the town in which it is located. It reconnects the two canals for the first time since the 1930s. It opened in 2002 as part of the Millennium Link project.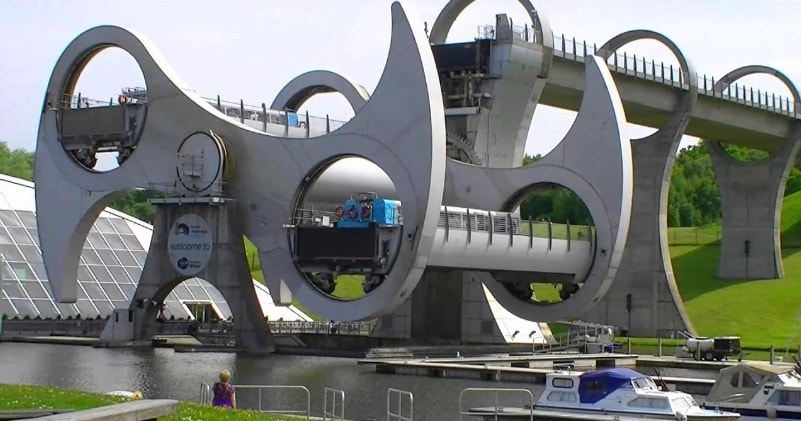 source/image(PrtSc): bankieland
The wheel raises boats by 24 metres (79 ft), but the Union Canal is still 11 metres (36 ft) higher than the aqueduct which meets the wheel. Boats must also pass through a pair of locks between the top of the wheel and the Union Canal.wikipedia
Video by "bankieland" – A real time view of the Falkirk Wheel turning 180 degrees. The wheel joins two canals and gives access to Glasgow and Edinburgh. It is an engineering masterpiece and a must visit attraction in Scotland.
Advertisement
The Falkirk Wheel is in a sense quite simple. One boat enters the bottom lift while another which has traveled on an elevated water bridge from the other canal enters the top lift.When they are both secure, the wheel turns and the two boats are exchanged, with the one that was on the bottom now zooming off on the elevated waterway.