This ATV is for off-roading only — and serious off-roading at that.The Shaman, measures 20.7 feet long, 8.2 feet wide, and 8.9 feet high is two feet longer, 1.5 feet wider, and a walloping 2.5 feet taller than the Chevy. This is a large vehicle.Road clearance is about 18 inches and the turning radius is just under 25 feet.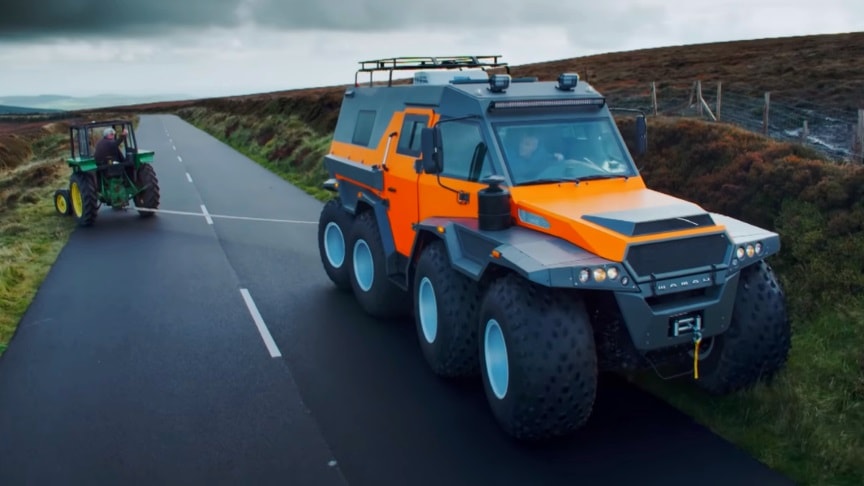 source/image: Top Gear
It's amphibious! That can come handy if you own a large swamp, or half of Siberia. Then, there's the engine. It's a three-liter Iveco diesel. A trusty, proven Italian design. And yes, a top speed of 44 mph is plenty enough when you seven, or even more friends with you, peeking through the escape hatch while you conquer the wilderness.
The vehicle is powered by an Iveco F1C 3.0-liter turbo diesel that pumps out 146-horsepower through a 6-speed manual gearboxWeighing in at 2.5 tons—most of which goes to its monster-truck-sized tires—the Shaman is an off-road beast.
Advertisement
It has an ascent angle of 45 degrees, meaning it can practically climb a mountain. It can also ford water up to the hood at 1.2 mph, and can even be equipped with a naval screw to increase its speed to 4.3 mph.It can carry up to 1.5 tons of cargo, and is actually 'pretty easy to drive'–according to those who have driven the monster.