The Magenta Tiny House is a manifesto of temporary independent housing, against debt and mortgages. The house is built on a flat trailer. It is a heat-insulated wooden structure on all sides. The house features a sofa bed, heating stoves, a chemical toilet and a small kitchenette.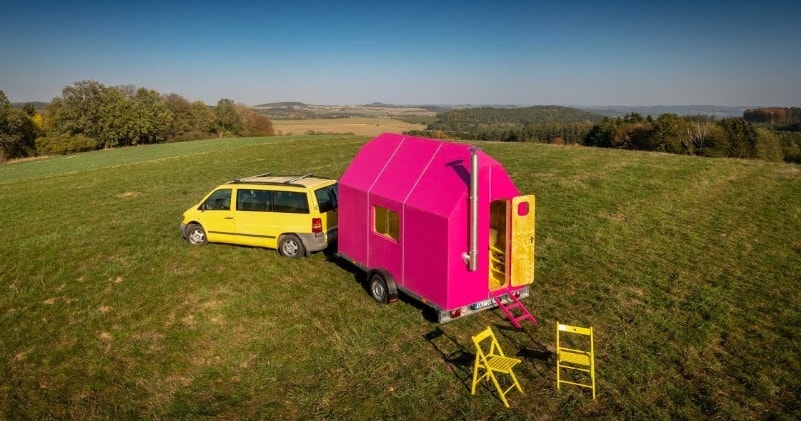 source/image: Joshua Woodsman
The house is small and therefore is the storage space situated in clever built-in furniture. An important element of the interior is stretched nets, which are used for stowing things.Built by European company Pinup Houses.
The house has functional wiring. The trailer can be connected to the mains by a cable. There are four interior and one exterior light. – two in the main room, one in the toilet and the kitchen. There are also 3 electrical outlets.
Advertisement
The kitchenette is equipped with a water tank, a gas cooker and plenty of open and seal-able drawers.Outdoor light and a tilting outdoor table allow you to spend romantic dinners anywhere in the countryside.With this house you can go anywhere your heart desires and quality road allows!
Specifications
External Dimensions: 3410 x 1870 mm / 11ft 2 "x 6ft 2"
Height with trailer: 3300 mm / 10ft 10 "
Construction time: 3 months
Price of material + work: 11 000 USD
Material: waterproof plywood, spruce beams and laths, polystyrene insulation.